The Midnight Before Christmas Review
The Midnight Before Christmas
by William Bernhardt
Ballantine Books, November 1998.
Paperback, 224 pages.
ISBN: 0345428102.
Ordering information:
Amazon.com.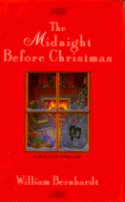 Megan McGee, a kind-spirited lawyer, is prepared to spend Christmas alone with her bulldog, Jasper. Her lonely plans began to change when Bonnie Cantrell arrives at her office seeking protection from her ex-husband who she says has vowed to kill their son Tommy. To make matters worse, Bonnie's ex-husband Carl is an ex-cop and is on friendly terms with the force. While Megan goes and tries to get a restraining order on Carl, he, in turn, kidnaps seven year old Tommy from the nursery. As the hunt for Carl ensues, Megan begins to uncover a crime that may be more sinister than Carl's kidnapping and threats. Can Megan solve the caper and save Christmas for poor confused Tommy? Will she find any holiday company besides Jasper the bulldog?
The Midnight Before Christmas
is a surprisingly good Christmas mystery full of plot twists and appealing characters, including especially devious wicked characters. An excellent mystery with an ending full of Christmas spirit. An enjoyable book for the holidays.
---
More from Writers Write