Messiah by Boris Starling Review
Messiah by Boris Starling
Onyx Fiction, June 1999.
Paperback, 457 pages.
ISBN: 0451409000.
Ordering information:
Amazon.com.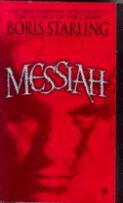 Investigator Red Metcalfe has been noteworthy in his record of catching murderers and serial killers, but this latest case has him puzzled. The first killing was a cruel hanging and the second a savage beating. Both victims had their tongues removed and replaced with a silver spoon -- while the victims were still alive, showing a killer that takes gratification in torture. The police and Metcalfe could find no clues at either crime scene. After the police are called in on a third murder, this time the victim is beheaded and also has his tongue cut out and the familiar silver spoon placed in his mouth, Metcalfe begins to become more obsessed about this case than any in his past. Except for the silver spoons, each crime has been completely different and the police cannot find any pattern in the killings. For the first time in his life since becoming a cop, Metcalfe can't figure out where to turn for a lead. With his team of investigators Jez Clifton, Kate Beauchamp and Duncan Warren, Red must get to the bottom of this seemingly unsolvable case and try to rid London of this clever psychopathic killer.
Be prepared for a ghastly killer and a surprising plot turn in this exciting debut from British novelist Boris Starling. The Messiah is one of the most frightening fictional serial killers ever created. He loves to torture, he's methodical and he doesn't leave the police a clue. Starling also does an excellent job creating his heroes. Red Metcalfe, the lead cop, has had some misfortunes in his past that haunt him and is so completely hooked on the case he cannot get away from it even for a moment. His determination to get the job done and his unwillingness to fail are almost an illness itself and cause his wife to leave him. This is the first novel from young British author Boris Starling. who works for a company that specializes in kidnap negotiation and clandestine investigations. Previously, he was a journalist for the British papers
The Sun
and
The Daily Telegraph
. Be sure to read this debut thriller from Starling -- and keep your eyes peeled for more books from this hot novelist.
---
More from Writers Write