Interview with Lou Aronica
by Claire E. White
Lou Aronica, Senior Vice President and Publisher for Avon Books, has been editing and publishing science fiction and fantasy literature throughout his entire career. He worked his way up the ladder from his early days at Bantam as a runner between offices to his current mission: leading Avon Books into the next century for media powerhouse Hearst Corporation. His many professional achievements include creating the Bantam Spectra imprint and acquiring and editing several New York Times bestsellers and Nebula, Hugo, World Fantasy and Locus award winners. He was also responsible for launching the hugely successful Star Wars® book program in the early 90s.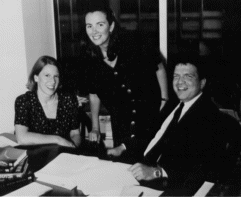 Jennifer Hershey, Exec. Editor, Jennifer Brehl, Sr. Editor


and Lou Aronica



In recognition of his work as one of the editors of the Full Spectrum anthology series, he won the World Fantasy Award. His plans for the future of Avon include a bold revamping of its science fiction and fantasy section with the launch of a new imprint called, appropriately enough,
Eos
, after the Greek Goddess of the Dawn. The publishing industry is in the midst of massive changes with tightening margins, rising paper costs and the development of the Internet and other new media. In such a climate of change, farsighted leadership and a willingness to take risks is essential for the publishing house which intends to remain profitable in the next century. Lou Aronica is ready for the challenge. He spoke to us about his path through the publishing world, the challenge of creating a new imprint and his thoughts about the future.
What was your first job in the publishing industry?
My first job was as a traffic person in the Managing Editorial department at Bantam. I carried cover mechanicals from one executive's office to another. Fortunately, this gave me plenty of time to take on copywriting responsibilities and to learn a great deal about the Bantam list.
What was the most gratifying accomplishment from your years with Bantam?
I think it would have to be the way I helped turn around the house's attitude toward genre fiction. When I got to Bantam, they had a good-sized Western business because of their association with Louis L'Amour, but did virtually nothing with science fiction, romance and mystery. I invested a tremendous amount of energy into changing this and by the time I left, the house was one of the industry leaders in all of those areas.
What did you enjoy most about editing the Full Spectrum anthologies?
The reason I decided to do Full Spectrum was because I felt a strong need to put together a project where the only consideration was editorial excellence. Because there were no real commercial considerations involved, it meant that I could open the anthology up to all contributors and it put me in touch with a tremendous number of writers I had never read before and would not have read under other circumstances.
I'd like to talk about the new Eos imprint now. How did Eos come into being?
Avon was not a particularly strong player in the science fiction and fantasy market when I got here in 1995. Given how much I care about the field, it was important to me that we rectify that as quickly as possible. When Jennifer Hershey and then Jennifer Brehl joined the staff before the end of that year, we decided that we wanted to create a program that didn't look or feel like everyone else's science fiction program and set out to create Eos.
"By making books like Cold Mountain and Angela's Ashes and The God of Small Things major bestsellers, the audience is telling us that they want high quality and fresh perspectives. It would be beyond foolish for us to offer them the tried and true instead."
We also decided that we needed to make a clean break from the previous program. For this reason, we stopped publishing new AvonNova books in August, allowing for a five-month layoff before the launch of Eos in January.
Who are some of the imprint's authors?

Among the better-known names are Raymond Feist, Gregory Benford, Ben Bova and Sheri Tepper. We're investing a huge amount of time and energy, however, in introducing new or relatively new writers to the sf and fantasy audience. These include James Alan Gardner, whose first novel,
Expendable
, made a real mark, Susan Matthews whose first novel
An Exchanges of Hostages
got terrific reviews, and Dennis Danvers, who has published two literary novels before and whose new novel,
Circuit Of Heaven
is one of the best sf novels I've read in a while.
Tell us about the new Eos website.
Like everything else surrounding Eos, it is going to be different from anything we've done before. There's an extremely high level of author participation, including chats, "lectures," panels on sf writing, etc.
How important is interactivity with fans to the Eos website?
It is extremely important and we are trying to make the site as interactive as possible.
What role will the Internet play in the marketing of the Eos imprint?
While I think the Internet still has only marginal marketing value overall (though I believe this will change), it has a great deal of value in reaching the science fiction market. We consider the Eos website to be one of the primary marketing vehicles for the imprint and are putting a huge amount of effort into making it as appealing as possible.
Let's talk about packaging for Eos books. Will Eos titles look different from other imprints?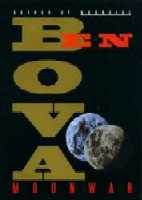 This is one of the ways in which we are clearly stating that Eos is different from everyone else's imprint. When I got into sf publishing 15 years ago, I took my cue on packaging from Judy-Lynn Del Rey--and she had been using the same technique for ten years at that point. Sf covers almost always use full-bleed paintings with big type over them. Sometimes big books have their paintings in boxes. That's about as adventurous as most of it gets. When we sat down for our first Eos cover conference, I announced to the group that we wouldn't be using any paintings on the front covers of Eos books at all--at least not in the near future. As a result, the Eos covers and jackets are far more type-and-design-driven than most other sf covers. We are utilizing graphics, treated photography and line drawings in really fresh ways. I think the result is a signature look. While the books don't share a uniform format at all, there is a design sensibility that connects them.
Eos will be hosting the first publisher-sponsored online convention in connection with the launch. What will the convention be like?
To the degree possible, it's going to feel like a real con. There will be panels and author interviews and we're even setting up autographings. Fans are going to have to provide their own filksinging, however.
What is the biggest change in the publishing industry that you have seen since the beginning of your career?
Without question, the biggest change has been the evolution of the superstores. They have completely changed the way books are merchandised and the relationship that a bookstore has to its community.
How has the Internet affected the publishing industry as a whole?
I think the Internet will have a profound impact on book publishing. I think that impact has only begun to be felt, though. A bookselling site, such as Amazon has certainly opened a new channel for us, but none of the various publisher sites or book subject sites have developed a huge audience.
What will the publishing industry be like in 10 years -- how will it be different than it is today?
I've stopped predicting this kind of thing. There are so many variables--not the least of which is whether anyone will be able to mass market an electronic reading device--that it makes little sense to do so. There will always be a huge audience for reading material and I think most of that material will continue to be provided by the larger publishing houses. Beyond that, however, I'm not guessing.
What role will the Internet play in changes to the publishing industry in the future?
Again, this depends on whether any kind of electronic reading device ever makes an impact on the market. If this does happen, the Internet will play a huge role in getting books to readers. If not, I think readers will continue to gravitate to virtual bookstores, but the impact will be far less dramatic.
Many experts predicted that the Electronic Revolution would signal the demise of the book industry, yet the exact opposite appears to be true. People seem to use the Internet to buy more books and to discuss them with people around the world. Do you see this trend continuing or will people eventually read novels from their computer screens instead of from a book made of paper?
I don't think there will ever be a significant percentage of the readership that will be happy reading novels off of computer screens. In my opinion, the only way the electronic novel will ever become a mass market item is if the reading experience can be made to be nearly identical to the book reading experience.
Have advances for the few top-selling authors spiralled out of control? What does this trend mean for the struggling mid-list author?
Well, now that Stephen King has accepted a profit-sharing deal for his next contract, perhaps things will go that way for a while.
"Our goal in bringing in new writers at this point is to find writers who we can still be publishing ten years from now and as a result we're looking for those who can tell us stories in new and interesting ways."
I've been in publishing for 18 years and advances have always been "out of control." There's no question that we all make some stupid decisions about how much to pay for certain books and there's also no question that some writers have so much leverage that you have no choice but to pay a premium price. I think the recent financial problems in the industry have caused most publishers to think twice about huge advances, though and I think the diversification of the market has made it easier than ever for a niche writer to find a readership. The one thing that the market is screaming, however, is that it doesn't want any more generic books and to the degree that "mid-list" is defined as "novels that fit into a certain category but don't have particularly high ambitions," I think the mid-list is in real trouble.
What is the biggest challenge facing the publishing industry today?
The industry has always worked on rather tight financial margins. Now that book sales are declining somewhat while advances, co-op and the "cost of doing business" stays high, those margins are downright scary. I think the biggest challenge is to not react to all of this by putting your head in the sand and practicing "safe publishing." This would be a terrible mistake. By making books like
Cold Mountain
and
Angela's Ashes
and
The God of Small Things
major bestsellers, the audience is telling us that they want high quality and fresh perspectives. It would be beyond foolish for us to offer them the tried and true instead.
What does Eos look for when it considers new authors?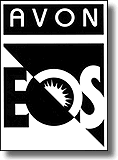 We're looking for distinctive voices. Our goal in bringing in new writers at this point is to find writers who we can still be publishing ten years from now and as a result we're looking for those who can tell us stories in new and interesting ways.
Does a past record of published sf/fantasy short stories help an author's chances in selling a novel to a major publishing house? What does or does not help?
Sales to the major magazines can certainly create a platform for an author. I think the sales to
Asimov's
probably helped launch James Alan Gardner. For us, though, it all comes down to the quality of the novel.
What advice would you give to the aspiring sf or fantasy author hoping to get published for the first time?
Don't write someone else's novel. Dig down and find the story that truly inspires you.
Some publishing houses seem quite reluctant to embrace the Internet and new technologies. How committed is The Hearst Corporation and Avon to being on the forefront of technology?
Avon has made a major commitment to its website and the Hearst Corporation has made a huge commitment to the Internet.
Aside from science fiction, what else do you like to read?
I have an extremely wide range of tastes--everything from literary fiction to potboilers to romances to memoirs to books on pop culture.
When you're not working, what do you do for relaxation?
My greatest pleasure is in being with my wife and two children. I do, however, also love writing and recording songs and am a hopeless New York Yankee fan (though it usually gets me so worked up that it can hardly be considered relaxing.)
**Eos Editorial Team Photo Credit: Gary Kane
---
More from Writers Write
---