Lifestyle Book Reviews
Armed Gunmen, True Facts and Other Ridiculous Nonsense: A Compiled Compendium of Repetitive Redundancies by Richard Kallan
Pantheon, May, 2005
Hardcover, 160 pages
ISBN: 0758202288
Ordering information:
Amazon.com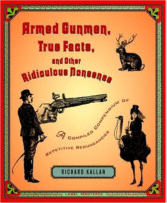 Armed Gunmen, True Facts and other Ridiculous Nonsense
is an
absolutely essential
book that catalogs tautologies. Some of them are
blatantly obvious
while others are
oddly peculiar
. You will
laugh out loud
at the many ways redundant phrases such as
planned conspiracy, ATM machines, famous celebrity, contributing factor, mass exodus, innocent bystander
and
deliberate lie
insidiously make their way into our speech and words. Even Dick Cheney's
undisclosed secret location
is a tautology. Our
final conclusion
is that Richard Kallan, the author of this
compiled compendium
, has
successfully accomplished
his task of writing a book about
repetitive redundancies
that is
vastly superior
than other collections of
repetitious tautologies
.
---
The Cat Fanciers' Association Complete Cat Book by Mordecai Siegal
HarperResource, October, 2004
Hardcover, 528 pages
ISBN: 0062702335
Ordering information:
Amazon.com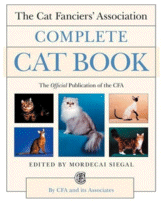 The
Cat Fanciers' Association Complete Cat Book
contains information about forty-one different breeds of cats, including the popular American Shorthair, Burmese, Egyptian Mau, Persian and Siamese breeds. Each cat breed section includes pictures and information about the cat's origin and history, personality, typical behaviors and special needs. The CFA Show Standards for each breed of cat are also provided. Other sections in the book include a helpful chapter about how to find and choose a cat. Once a kitten has been chosen the chapter about "New Kitten Basics" will come in very handy -- especially for novice kitten owners. The book also includes information about cat care, feline nutrition and cat shows.
The Complete Cat Book
is a well-organized book that is packed with information that no cat owner should have to go without.
---
Return to Book Reviews Index
---
More from Writers Write