Lifestyle Book Reviews
78 Reasons Why Your Book May Never Be Published and 14 Reasons Why It Just Might by Pat Walsh
Penguin Books, May, 2005
Hardcover, 192 pages
ISBN: 0758202288
Ordering information:
Amazon.com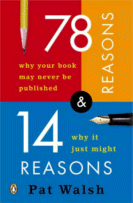 One can succeed by simply avoiding all the traps and pitfalls that cause most others to fail. Author Pat Walsh, founding editor of independent publisher MacAdam/Café, point out these pitfalls to writers in her book
78 Reasons Why Your Book May Never Be Published and 14 Reasons Why It Just Might
. Would-be authors will come away much more knowledgeable about publishing and what it takes to succeed by reading Walsh's book. According to Walsh: The number one reason your book will never be published is you have not written it. Not yet. If you just complete a manuscript you already have an advantage. Then there are 77 more reasons why your book might not get published including: You think you are a natural; You cannot tell a story; You listen To false praise, You have a tin ear for dialogue; You submitted your work too early; You go to writing conferences for the wrong reasons, etc. But not to worry: the book includes some advice for working around these problems. In addition to 78 reasons why your book may not be published, Walsh also includes 14 reasons why it might. Walsh offers a serious "warts and all" look at the business of getting published, and provides a roadmap for novice writers who are smart enough to take her advice. Highly recommended.
---
Body for Life for Women by Pamela Peeke, MD
Rodale, April, 2005
Hardcover, 288 pages
ISBN: 1579546013
Ordering information:
Amazon.com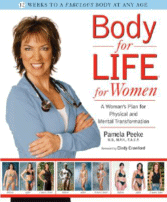 In
Fight Fat After 40
, Dr. Pamela Peeke introduced her Body for Life Program, which utilizes the latest research to help one lose weight and get in shape for life. In
Body for Life
, Dr. Peeke focuses on women's unique issues when it comes to fitness. Dr. Peeke divides a woman's life into four phases, based on the hormonal changes a woman's body undergoes in a lifetime. Using a holistic approach, Dr. Peeke lays out a plan to decrease fat, increase muscle and decrease stress levels. Recent research has shown the connection between the elevated cortisol levels which accompany long-term exposure to stress in daily life. The excess cortisol leads to dangerous inflammation of the vascular system and also to weight gain.
The program emphasizes weights, cardio, and stretching, as well as techniques to get women to really focus on their own health and mental well-being. The diet may be strict, but Dr. Peeke's tone is nurturing and caring. She simply exudes a passion for helping women be their best selves. Her explanations of women's particular issues with weight loss and, more importantly, exactly how to get motivated and stay motivated, are outstanding. This is an excellent resource for any woman who is serious about transforming her mind and body into something better, and who is willing to put in the time. Highly recommended.
---
The I Ching for Writers by Sarah Jane Sloane
New World Library, February, 2005
Paperback, 272 pages
ISBN: 1577314964
Ordering information:
Amazon.com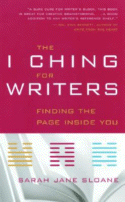 The I Ching for Writers
adapts the 5,000 year-old ancient oracle system of the I Ching for use in creative writing. Creative writing Professor Sarah Jane Sloan teaches the philosophy of the I Ching to writers through inspiration, instruction and hundreds of writing activities and exercises. Professor Sloan certainly offers a unique approach to writing.
I Ching
readers will learn how to consult the I Ching by coming up with a question and then tossing coins to determine which hexagram to consult. There are 64 hexagrams in the book Like "39. Chien: Move ahead despite obstructions," 58. Tui: Celebrate your work" and "17. Sui: Follow the writer's path." Sloan advises writers that each hexagram can mean many things: "Keep in mind That each hexagram can mean lots of different things, and Even a seemingly straight-forward answer can mean its Opposite. Take the advice and comments with a grain of salt. Use the hexagram as a hint, rather than an unequivocal answer. Let it direct you toward thinking about your question in New ways." Each hexagram includes comments from writers who have experienced similar dilemmas, advice and writing exercises -- which take about thirty minutes. Many people have achieved great results using Eastern philosophies and applying them to creative and healthy lifestyles. If you have been struggling creatively and you have an open mind, this might just be the book to help you. Not only will it force you to think but you will also have something written after each I Ching consultation.
---
Return to Book Reviews Index
---
More from Writers Write
---