Liar by Jan Burke Review
Simon & Schuster, May 1998.
Hardcover, 348 pages.
ISBN: 0684803453.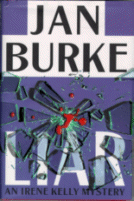 Amateur sleuth/reporter Irene Kelly and her husband feel lucky to have each other after a terrifying kidnapping incident (see,
Hocus
). But they barely have time to catch their breath when Irene gets the news that her long-estranged Aunt Briana has died. Irene must find her aunt's son Travis and tell him of his mother's death. But Travis doesn't want to be found and he certainly doesn't want anything to do with Irene or any of her branch of the family, the Maguires, after they cut themselves off from Briana over her marriage to a man with a decidedly shady past who everyone always suspected of murdering his first wife, a wealthy heiress. When Irene locates Travis they join forces, somewhat reluctantly, to find out more about Briana's death and stumble onto a viper's nest of lies and buried family secrets which could result in Travis and Irene being the next targets of a long-hidden murderer. Nevertheless, Irene is determined to find out the truth about her family's past -- no matter what the cost.
Liar is a skillfully plotted, suspenseful story of how the actions of a prior generation can have ever-widening repercussions on a modern family. Everyone in Liar has something to hide; the dual nature of the mysteries both past and present are carefully unraveled in Burke's engaging style of storytelling. Another winner in a fantastic mystery series.
--Claire E. White
Ordering information: Amazon.com.
---
More from Writers Write
---