King Con by by Stephen J. Cannell Review
Avon, May, 1998.
Paperback, 407 pages.
ISBN: 0380728176.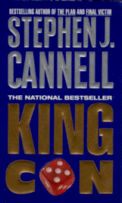 Beano X. Bates has reached the pinnacle of his profession, having earned the title of King Con which is given only to the very best con artist of a generation. With his great looks and killer charm no one can resist Beano Bates when he's pitching a mark. But Beano's whole life changes when he makes the mistake of cheating notorious mobster Joe "Dancer" Rina at cards and earns a vicious beating for his trouble. When his beloved cousin Carol is brutally murdered by Joe Rina's brutish brother Tommy before she can testify against the mobster, Bates vows to do whatever it takes to bring Rina down -- including joining forces with Federal prosecutor Victoria Hart, whose career is in a shambles after Carol's murder occurred while she under Hart's protection. The unlikely pair set off on a cross-country venture which will take them from the casinos of Atlantic City to the sundrenched Bahamas and the northern coast of California as they set up a long con which will play upon the Rina brothers' greed to take them down in a Big Sting which will result in Tommy testifying against his own brother about the pair's illegal activities.
Fans of nonstop action and pure entertainment got a real treat when Stephen J. Cannell decided to take time out from his prolific television career (The Rockford Files, The A-Team, The Commish, Silk Stalkings etc.) to write novels. In his third book, Cannell takes on the world of the Big Con in a modern day version of The Sting. Cannell's energy and enthusiasm for his characters and his story is contagious. With a charming hero with a heart, a brilliant, gutsy heroine who finds out there is more to life than prosecuting criminals and a breathless pace, King Con is an exciting, hilarious journey into the high-stakes world of the confidence game that you won't want to end.
Ordering information: Amazon.com.
---
More from Writers Write
---