Killer Calories by G.A. McKevett Review
Kensington, June, 1998
Paperback, 314 pages.
ISBN: 1575662981.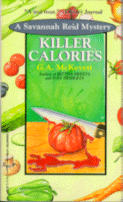 Ex-Georgia cop and current private detective Savannah Reid loves her job almost as much as she hates spa food, so when a local spa owner and former B-movie actress Kat Valentina is found dead in a mud bath and Savannah is forced to go undercover at the spa, she is anything but happy. But her anonymous client is paying well for her time, so she tries to get into the routine of carrot sticks and aerobics classes in order to smoke out a murderer. As Savannah's investigation progresses, she finds a plethora of suspects all with motives to do away with the former disco diva. With the help of her former partner and two good friends who sneak her out of the spa for some real food, Savannah is close to finding the murderer -- if the murderer doesn't get to her first.
Killer Calories is another winning entry in the Savannah Reid series. Savannah is an outspoken, brash but kind heroine whose outlook on life is always entertaining. A quick and delightful read for those who like their mysteries light and funny.
Ordering information: Amazon.com.
---
More from Writers Write
---