A Conversation With Kathy Hogan Trochek
by Claire E. White
Atlanta novelist Kathy Hogan Trocheck is the author of eight mysteries, including the highly acclaimed Callahan Garrity and Truman Kicklighter series.
An award-winning journalist, she spent 11 years as a newspaper reporter at
The Atlanta Journal-Constitution
. In 1991, she quit newspapers to write fiction full-time. Her first book,
Every Crooked Nanny
, was published by HarperCollins Publishers in 1992.
Every Crooked Nanny
introduced readers to Callahan Garrity, a former Atlanta police detective turned private investigator, who buys a cleaning business and quickly finds herself fighting grime and solving crime in her spare time. The second book in the series,
To Live and Die In Dixie
, was nominated in 1993 for the Agatha, Anthony and Macavity awards for best Mystery fiction. The other titles in the popular Callahan series include
Homemade Sin
,
Happy Never After
,
Heart Trouble
,
Strange Brew
and the just-released
Midnight Clear
. In 1996, Trocheck took time out from Callahan Garrity to create a new series character. In
Lickety-Split
, readers met Truman Kicklighter, a feisty sixty-something retired newspaper reporter who resists being put out to pasture. Set in Trocheck's hometown of St. Petersburg, Florida, and more specifically, in the newly-widowed Truman's rented room in The Fountain of Youth Retirement Hotel,
Lickety-Split
was followed, in 1997, with
Crash Course
, the second in the Truman Kicklighter series. She has an international readership; her books are published in England, Germany, Holland and Denmark.
Heart Trouble
and
Strange Brew
have been selections of The Mystery Guild. She received a journalism degree from The University of Georgia and wrote for newspapers in Florida and Georgia, including
The St. Petersburg Evening Independent
,
The Clearwater Sun
, The
Savannah News-Press
,
The Marietta Journal
and
The Atlanta Journal-Constitution
. Her work has also appeared in
The New York Times
,
Parenting Magazine
,
Food & Wine
,
America West
and
Atlanta Magazine
.
Married and the mother of two young children, Trocheck lives in a circa 1926 Craftsman bungalow in an Atlanta suburb, where she is happily ensconced in a new backyard "writing shrine" constructed for her by her husband from a hut salvaged from Atlanta's 1996 Olympics, and which was featured in
Better Homes and Gardens
this past summer. The delightful sense of humor that shows through in her books extends into the promotional end of the writing business; she has been known to show up for booksignings in a costume appropriate to the book. Kathy talked with us about how she made the transition from award-winning journalist to successful novelist, how she created her popular Callahan Garrity series, and shares her insights on how beginning writers can improve their skills.
How did you get your start as a journalist? What types of stories did you cover?
I got a degree in newspaper journalism from The University of Georgia.
Worked on
The Red and Black
, which is the student newspaper at Georgia. First writing job was a summer job at the now-defunct
Clearwater Sun
, in Clearwater, Fla. I was also a stringer one summer for another now-defunct Florida paper,
The St. Petersburg Evening Independent
. My first job out of college was as a general assignment reporter for
The Savannah Morning News
. I covered everything from the local hospital authority meetings to beauty pageants to Rotary meetings. Later, I went to work for
The Marietta Daily Journal
, in an Atlanta suburb, where I covered cops, courts and city hall. I joined
The Atlanta Journal-Constitution
as a news reporter, but later switched to features.
What influenced you to leave journalism to become a full-time novelist?
By 1990
USA Today
was in full swing and newspaper journalism had changed. My paper's management had changed too. I found that the kind of celebrity-based journalism I was doing didn't satisfy me. My stories didn't matter to me. And I wanted to be able to work at home, to spend more time with my husband and kids.
Do you find writing fiction to be more satisfying than writing nonfiction? Why or why not?
I love writing fiction--most of the time. I make most of my own rules, and generally, the scope of my work is only limited by me. No office politics, no meetings, no pantyhose, no commute. What a joy!
Do you ever miss the life of a journalist?
I do sometimes miss the collegial aspect of a newsroom, and the immediate gratification one gets from daily journalism. I also miss that delicious sense of being an insider.
In 1990, we were introduced to Callahan Garrity, an ex-cop and current private investigator and owner of an Atlanta-based cleaning service. How did you create the character of Callahan?
I'd started thinking about writing a mystery. I wanted to write 1st person, about a feisty, Southern private eye. Callahan insisted she be the one.
How has Callahan developed from the first book to her latest, seventh adventure?
"I think any time you write about family, it can be so painful the only way to deal with it is with honesty and humor."
I think she's matured, maybe mellowed a little. Her mother's illness made her realize how much family means to her, and nearly losing her relationship with Mac was also an eye-opener. When she started, she was definitely fumbling around, sometimes without a clue. I think she's wiser now, more experienced. Me too.
I'd like to talk about your new book starring Callahan Garrity, Midnight Clear. What was your inspiration for the story?
Midnight Clear
came about after I was asked to be a character witness in a friend's child custody battle. The incredibly intense emotions of that trial triggered the story of
Midnight Clear
.
The story takes on some really serious issues such as parenting (or lack of it) and abusive relationships. How did you approach writing about these issues and integrating them into an entertaining mystery at the same time?
I wrote about those issues from Callahan's point of view. She has an offbeat, sometimes dark sense of humor, so that's the sensibility she brings to the story. I think any time you write about family, it can be so painful the only way to deal with it is with honesty and humor.
I'd like to talk about your other mystery series which stars Truman Kicklighter, retiree extraordinaire. What made you choose South Florida as a setting for this series?
I'm a native of St. Petersburg, Fla., where the Truman books are set, and my parents still live there. At one time, my mother ran a restaurant in a residential hotel much like The Fountain of Youth, where Truman lives. I'd always wanted to write about my hometown and that setting.
When will we see Truman again?
I don't currently have a contract for another Truman, but I hope to revive the series sometime soon.
Tell us about your special writing space - I understand it was featured in Better Homes and Gardens this past summer?

My office is a 10-by-10 foot shed that was recycled from the 1996 Olympics. It had been used as a display space by the representatives of a Polish Olympics Bid Team, and I bought it for salvage. My husband had it dismantled and moved to my backyard, where we rebuilt it,installing floors, walls, windows, a door, insulation, electricity, even heat and air. It's tiny, but I love it.
Do you have any special rituals or routines that you use when you write?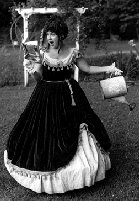 I like to have the sun on me when I write, and a Diet Coke close at hand. I have a writing shrine near my computer, and sometimes I light candles and place fresh flowers at the feet of my own special patron saint. If I'm really getting close to deadline time, I'll run away from home, renting a hotel room or staying at the mountain home of friends, away from the distractions of kids and ringing phones.
What do you love most about being a novelist?
I love the sense of possibility. I love creating characters and giving them a stage to perform upon. Writing dialogue brings them to life. I could write dialogue all day.
What do you like to read?
I read a lot of mystery. Dick Francis, Sue Grafton, Marcia Muller, Margaret Maron, James Lee Burke, Tony Hillerman, Julie Smith, Michael Connelly. I read some non-fiction, especially anything to do with Southern history. And I'm a member of a woman's book club. We read
House of Mirth
last month. This month we're reading
Under The Tuscan Sun
.
Do you ever face writer's block? How do you overcome it?
I get stuck on plot points. I fidget, take a walk, whine, cry, get a Diet Coke, light my writing candles, talk to mystery writer friends, then get back to work. I don't have time for real Writer's Block.
As a writing teacher, what is the biggest mistake that you see nonfiction writers make?
Sometimes non-fiction writers overlook what the central theme of their story should be. They assume the reader knows more than they do. They forget to entertain.
I know you recently taught a class at the Atlanta Journal-Constitution's AJC Univeristy. What are some of the elements of fiction that nonfiction writers can use in their writing?
Non-fiction writers can take more care letting readers know
"[R]ead the kind of works you'd like to write. Do your homework. Learn the rules of criminal evidence, of criminal detection. Find your fictional voice. It must be fresh, original, with an absoluteness that lets an agent or editor know that you know what you're writing about."
about the principals of their story using the same tricks of characterization novelists use. They need to be more observant. What does the scene of an airplane wreck smell like? How is panic registered in a fireman's voice? They need to make the setting real by sketching a picture for us. They need to bring elements of suspense into a story, teasing the reader along until the very end.
What is your advice to novice journalists trying to break into the business?
Novice journalists trying to break into fiction, or non-fiction? Doesn't really matter. Whoever you are, write. Keep writing. Be critical of your work. Read the work of the masters. I used to love to read the Style section of
The Washington Post
when I was a features writer. Take care to bring some style to your writing. Challenge authority. Ask questions.
What is your advice to aspiring mystery novelists?
Aspiring mystery writers? Again, read the kind of works you'd like to write. Do your homework. Learn the rules of criminal evidence, of criminal detection. Find your fictional voice. It must be fresh, original, with an absoluteness that lets an agent or editor know that you know what you're writing about.
How much do you use the Internet? How do you think it has affected the book publishing world?
I'm just getting comfortable using the Internet. I love the immediacy of it. If I have a question, I can just go online, and find an expert. Don't really know yet how it will affect book publishing world. I myself don't think I'll see the day when I'll prefer sitting at a computer to read a book as opposed to propping myself up in bed or on a sofa to read.
Midnight Clear takes place over the Christmas holidays. What is the most memorable Christmas you've ever had?
The most memorable Christmas was probably the first year we were married. We'd moved to Savannah a month earlier, had no money and were away from our families for the first time in our lives, in our first tiny apartment. We hung Christmas cookies on the tree, strung popcorn, had dinner with strangers. It was wonderful.
What's on your Christmas wish list for this year?
Christmas list? I'd like a new computer and a new printer and fax. I'd like a weekend in New York with my husband and kids, like the trip we took last January. Tickets to a Broadway musical. A bestseller. Some bubblebath. A long nap.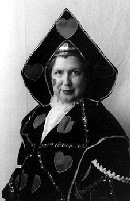 What projects are you working on now?
Oh projects. What a list. I'm finishing up a short story for a mystery anthology called
Murder They Wrote
. I'm working on a one-shot mystery set in Savannah. I'm working on a humorous novel about love, divorce and chicken salad. I'm trying to write a screenplay of
Crash Course
, my second Truman Kicklighter mystery. I'm teaching a high school writing workshop next week. I'm never bored!
---
More from Writers Write