A Conversation With Jeff Herman
by Claire E. White
Literary agent
Jeff Herman
founded The Jeff Herman Agency, LLC, in 1987 while still in his twenties. The agency has expanded rapidly since then, and has sold more than 350 titles.
Herman's agency has established a strong presence in general adult nonfiction, including business, reference, commercial self-help, computers, recovery/healing and spirituality. Herman's notable clients include bestselling authors Dave Pelzer, Jack Canfield, and Mark Victor Hansen, authors of
Chicken Soup for the Soul
, the #1
New York Times
bestseller which has launched a host of sequels and football great Joe Montana. His most infamous client was Gennifer Flowers, author of
Sleeping With the President: My Intimate Years With Bill Clinton
(Jeff's wife, author Deborah Levine Herman actually ghost wrote that one). His agency has sold everything from humor books, such as
Dumb As I Wanna Be : 101 Reasons to Hate Dennis Rodman
by David Hanson, Christopher Erkmann (Illustrator) (Avon), to serious business titles, such as
The Saturn Difference: Creating Customer Loyalty In Your Company
by Vicki Lenz (John Wiley & Sons). Herman speaks throughout the country about how to get published. He's a contributor to
Writer's Digest
Magazine, and has been written about in many books and publications, including
Success
,
Entrepreneur
, and
Publisher's Weekly
. He has appeared on numerous television and radio shows. Previously, Herman worked for a New York public relations firm where he designed and coordinated national consumer marketing campaigns for Nabisco Brands and AT&T. Prior to that, he was a publicist at Schocken Books, where he promoted the bestseller,
When Bad Things Happen To Good People
by Harold S. Kushner. Herman graduated from Syracuse University with a Bachelor of Science degree in consumer economics. He was Captain of the school's award-winning debate team and a leader in student government. He is a member of the Association of Author Representatives and the National Speakers Association. Known as one of the most dynamic and innovative agents in the business, Herman is also the author of the annual bestselling book, the
2000-2001 Writer's Guide to Book Editors, Publishers and Literary Agents
(Prima Publishing),
You Can Make it Big Writing Books
(Prima Publishing), and
How to Write a Book Proposal: 15 Proposals that Worked and Why!
(John Wiley). Jeff met his wife Deborah when she came to work for the agency. Deborah is now vice-president and editorial director of the agency, and is a contributing editor to the annual
Writer's Guide
.
As you might expect, Jeff Herman is charming, intelligent and quite persuasive on his views about the industry: just the attributes any writer would love to have in an agent. He is also enthusiastic, and his love for his work comes through loud and clear in every sentence that he speaks. He has little patience with those who constantly dwell on the bad side of things, preferring a more optimistic approach to life -- even in the face of the grueling hours required by his profession. Jeff spoke with us about his road to success as a literary agent and author, and gives some great advice for writers hoping to get published.
What did you like to read when you were growing up?
Oh, let's see. I actually did not get interested in reading until I was in high school, around the 10th grade. I started to read the classics. I'd read one right after the other. I'd read Mark Twain, D.H. Lawrence, Charles Dickens: all the greats. I really enjoyed it.
What was your first job after you graduated from Syracuse?
My first job out of college was with Shocken Books; I did in-house publicity. Shocken was an independent, mom and pop publisher, which is now part of Random House. As you know, independently-owned publishers are few and far between these days. The publicity department consisted of my boss and myself. My first big project was
When Bad Things Happen to Good People
. We didn't know at the time how big that book would be.
What prompted your decision to go out on your own to form your own agency?
I left the publishing company to work for a public
"In query letters many writers immediately put themselves down, and they don't even know they're doing it. They'll tell me in the first paragraph how long they've been trying to get published without any success, how countless editors and agents have already rejected their manuscript. These are not the kind of statements that are going to make me think they've really got something great."
relations firm that specialized in corporate work. The publishing industry then (as now) paid very little money, especially for entry level people. This industry pays starvation level wages! You get very good experience, however. I was in a more mercenary state of mind at the time, and did corporate PR, but I was getting itchy -- I was still in my 20s then. I always felt more comfortable working on my own projects. I wasn't really a great team player. So I left the agency I was with and I formed my own PR agency. I went out and got my own clients, and it's worked out very nicely. It just so happened that some of my clients that I was bringing in had written books or wanted to write books, for two reasons. One, because it was a passion of theirs, and two, because they saw it as a very cost-effective way to promote their services or their businesses.
So, at first, I was doing PR. I didn't even know what a literary agent was; it wasn't a part of my world, even though I had been in publishing. I was on the marketing side and I really had no dealings with agents up to that point. My dealings with authors at that point was really to promote their businesses or their services. Their books became another marketing tool, another story hook. The clients began to ask me to sell their next book for them to book publishers, to act as the go-between. The word "agent" never came up, though. Up to that point, I had always been very effective in reaching out to the media so, as far as I knew, book publishers were just another form of media. I would cold call book publishers to see if they might want to read a particular manuscript that I had available, and that's how I started to be an agent -- even though I had no idea that I
was
agenting. It was actually an editor who told me that I was an agent. Editors would start to refer to me as an agent, and I would always correct them and tell them that I was really a PR person. But as far as they were concerned, I was an agent. What I found was that I really enjoy that aspect of the work more than any other aspects of the business. I like working with the client on packaging his book, working on the deal with the publisher and getting it published.
When did you face the fact that you had actually become a literary agent?
When I was 28 or 29. I had been agenting part-time for a couple of years, and then decided to come out of the closet and be a real agent. My plan at that point was to phase out public relations work and go straight to doing the agent thing, which was risky. Legitimate agents are paid on a contingency basis, but the PR business is retainer-based. In the PR business, there's a certain security in always having a retainer. With agenting you need to have the confidence that you can generate sales. It's purely commission.
What was your first really big sale as an agent?
A book called
Getting Hired
. The book was published by Prentice-Hall, with a modest advance. Because I had these PR skills, I contacted beer companies. This was back in the mid-80s when the drinking age was still eighteen. College campuses were still considered to be fair game for marketing of alcohol. Beer companies hyped themselves aggressively on campuses: most of them had special divisions for this purpose. So I contacted a number of beer companies and said, "Look, you're spending all this money on radio ads, billboards and ads in college newspapers. What if you actually took this book and custom-printed it with your own logo on it with your own inserts, and gave a copy to every college student for free?" Coors, which at the time was really a regional beer producer, jumped on the idea. They loved it. Coors bought 300,000 copies of the books through Prentice-Hall, but now wherever you would have seen the Prentice-Hall name, you would see the Coors name. They distributed these specialized versions of
Getting Hired
on college campuses around the country. It was a very successful campaign for the company; that was my first big deal.
What was the most challenging aspect during those early years of starting your own business?
I found that getting to know the editors was not difficult. They are just looking for something to acquire that might be good. What was difficult initially was getting good product that I could sell. I was not really networked or connected to writers, per se. How would anyone even know to send me his manuscript? So what I did was to use my PR skills on myself. I set out to promote myself, and I received a lot of publicity in a lot of different ways: tv, print etc. I would obtain lists from writers' groups and I would do direct mailings introducing myself as a new agent. Writers, to a certain extent, were flattered to get a letter. I personalized the letters which, at the time, was much more difficult to do than it is to do today. We would have "Dear Mr. Johnson." It wasn't just a generic "Dear Writer" letter. I received a fantastic response from this. Many really good writers who were not sure about their current agent got back to me, and I started to generate a lot of good stuff.
What excites you about a manuscript when you read it?
I have to be able to, in my gut, visualize a publisher being able to publish it. I can't really use my brain too much. It really has to come from my own intuition. Naturally, I am going to be wrong a lot of the time, as everyone is in this business, regardless of the process that they use. When I say wrong, I mean that I have let some good stuff get by me. I occasionally sign up something that perhaps I shouldn't have, but for the most part I think that I have a pretty good sense. When something clicks for me, I think, "Yes, this is it. I can really see someone publishing this."
That
is exciting.
What kinds of books are you looking for right now?
My aptitudes are really in nonfiction, not in fiction. We do the occasional fiction book, but that's difficult for me. I am much more fluent in nonfiction. Within the nonfiction category, I do all kinds of books. I am particularly strong in the categories of self-help, how-to books and pop psychology.
How many queries or manuscripts do you receive every month?
Hundreds, probably because of the
Writer's Guide
that I publish. That generates an enormous amount of correspondence. My wife is in the business, and she helps me. I have a couple of assistants who help me screen, as well. We generally do have a bit of a bottleneck. That is the nature of this business.
What is the biggest mistake that aspiring writers make when they are trying to convince you to take them on as a client?
They make a lot of mistakes! They do a lot of things right, of course, but there are a lot of things they do wrong, as well. For example, in query letters many writers immediately put themselves down, and they don't even know they're doing it. They'll tell me in the first paragraph how long they've been trying to get published without any success, how countless editors and agents have already rejected their manuscript. These are not the kind of statements that are going to make me think they've really got something great. They are intelligent people, but they just don't understand that this is a business. They think it's like social work, or something, and they write as if they were addressing a social worker whose job is to help them. But trust me, the sad story does
not
impress agents. If you don't have anything good to say about yourself, make something up. And if you can't make it up, please don't say anything bad about yourself -- even if you really are just a miserable, wretched case.
Let's talk about timing of queries a bit. For example, if you had a query about a Y2K or Millennium book, when should you have submitted that idea?
About two years in advance, for a high concept novel. Those kinds of books had to start getting published in late 1998.
Let's talk about the marketing side, after the book is published. How important is it for an author to be mediagenic these days? What can an author do to become more mediagenic, if he's not exactly Mel Gibson?
Most authors -- most people -- aren't that mediagenic.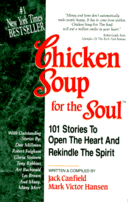 You'd be surprised, but you don't need to be mediagenic, or even have any media behind you for a book to do well. Media doesn't necessarily sell books. There are people who have done major talk shows, and yet very few copies of the book sold. There are people who have taken out huge ads in newspapers which generated no book sales. The key question is: how do you generate word of mouth about a book? It's a slow process. It doesn't have to be immediate. Once you're established, like Stephen King or John Grisham, then you become branded. You're a brand and you have a following. And once your new book comes out there will be an immediate groundswell of support for it, because people have been waiting for it. So it will hit the lists immediately. If you are not yet a celebrity or yet an established brand, you're most likely not going to have an immediate bestseller, but there are things that you can do over time to generate word of mouth, so that eventually you
will
have a bestseller. The primary example of that is
Chicken Soup for the Soul
. The authors were my clients, originally. Now they're doing it on their own. That book (the first one they wrote) was probably in print for a good nine months before it made any bestseller lists. It became a bestseller because they worked it.
It was a small publisher that originally published the book?
Yes, it was a small publisher which, at the time, was not a player of any significance. But they worked it. Any radio show, they did. Any TV show or newspaper they could do, they did. They also discovered all the distribution channels that might be available. They went where authors generally do not go. They hit as many signings as they possibly could. They didn't care how humiliating it was, because most people don't even go to signings unless it's a big celebrity. They contacted as many catalogs as they could think of. There is this whole huge direct response catalog market and they got themselves in as many catalogs as they could.
Not book catalogs?
No it could be anything, clothing or greeting cards: they got their book listed in the catalogue. They contacted a lot of the MLMs (Multi Level Marketing). Things like Amway. And these organizations began to buy the books by the thousands.
Who named that book?
It was the authors' idea. So they just kept working it and pumping it and in the end people were telling each other to buy the book.
You're an author yourself -- let's talk about your annual guide, the Writer's Guide to Book Editors, Publishers and Literary Agents. What originally inspired you to write this book?
That was back when I was making the transition
from being a part-time agent to being a full-time agent. One of the challenges I had was knowing who published what, and knowing who the editors were at each publishing company and what they did. I had to do my own homework from scratch. I would have to call up each publisher and find out who the editors were and so on. I began to make a database. Then it occurred to me that the reason I had to this from scratch was because no one else ever had done it. It was not available. In the public relations field, those lists could also be bought. You could always buy a list of all the radio and TV shows in any city in Texas with the names of the producers -- who to contact and what they were looking for. Nothing like that existed in book publishing. So I decided to create it.
I found the detail, the personalization and the comments especially impressive. That must be incredibly time-consuming to keep updated.
I knew people wanted more than just a name. They wanted to get a feeling. They wanted to get a sense of the human being they would be talking to, so we do our best to give them that. We have some new books coming out which will supplement the
Writer's Guide
, which will make the process even more personal. We have a book coming out called
The Editors' Speak
, which will not only give you who the editors are, but it's actually going to go beyond the
Writer's Guide
. Just like you are interviewing me now, we're going to interview several hundred editors.
When is that project going to come out?
That should be out sometime late next year from Career Press.
How do you find time to integrate your writing into your schedule as an agent?
Well, I sort of have a template for the
Writer's Guide
. I've already invented the wheel for the
Writer's Guide
, so I know what has to be done and I'm able to obtain very good freelancers who I supervise.
Were you at all surprised by the book's big success?
No, because I know it's a good book and I know that there are so many people out there that either want to be writers or want to think about being writers. I knew that there is really an untapped, unsupported market out there.
Let's talk about your latest book, You Can Make it Big Writing Books. How did this book come about?
It came about because people are always asking me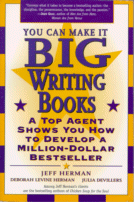 what happens after they get their book published. So many people are so frustrated once they get their book published. They really did not understand the process. They thought that getting a book published meant it would be as easy to find as a container of Tide detergent. Because it's a book, it will be on every shelf in every bookstore. But it doesn't work that way. The ratio of shelf space to product available is just astronomical. It's not like with laundry detergent where you have maybe ten or fifteen brands. With books, you have hundreds of thousands (if not millions) of copies. So even with superstores, you're still going to have a limit. Amazon is able to offer a million copies, because they just have to throw in some more megabytes of storage space, but a bookstore can't do that. So authors were very frustrated. They couldn't find their books and it meant so much to them to get it published. The publishers don't really communicate with writers about the process of publishing. So the point of this book was to try to give writers a little more power. Most of the writers I have spoken to were shocked beyond belief after they finally got their book published, asking me, "What do you
mean
I have to go promote it myself??" That was the biggest shock, especially the little midlist authors I come across. For the most part, there really
is
no in-house publicity, except for the big frontlist books, or if a publisher has invested hundreds of thousands of dollars for an advance or something. Or if it's a celebrity-driven book, or if the author is someone with a track record, like a Grisham. Even then, publicity is not done in-house. The publisher allocates money to retain outside agencies to do it. But they'll only do that if it's a book they have a really big investment in. Everything else stands by itself.
In the book I thought it was really interesting the way you categorized authors who do manage to sell their work: the marathoners, the producers, the promoters. Can you tell which category someone is going to fall into when you meet them or read a query, or is it based on performance?
You can tell beforehand. For instance, if the person who's coming to me just happens to have his own business, and it's a business that he had to build and continue to build on his own through his own networking and efforts, you can assume that person is going to use that drive and use that gift to keep going once his book is published. He is going to turn that loose. If it's someone who has shown no aptitude or experience in the area of self-promotion, self-marketing for his survival and he's had it comfortable in that respect -- that's a person who's unproven. It doesn't mean that he couldn't turn it on and learn it, but he certainly doesn't have a track record for it.
A strong backlist can help an author sell future books. A weak backlist can really hurt an author. Have you run across a situation where an author's sales are down, but he'd like to launch a new series. Do you recommend that he change his name or publish under a pseudonym?
No. Generally not. That would not be my advice. The fact that he's had books published puts him way ahead of the game. If you've never had a book published, then you're a virgin. You're totally untested. I think the most difficult position to be in is someone who has never been published. The fact that you have been published, commercially published, even if it was not a big seller, still makes an impression. It makes an impact on the agents and the editors. They know that you've gone through that hurdle and they will read your material differently. It prejudices them in your favor because they think, "Oh, she's been published; she knows the score."
Even if her prior books didn't sell that well?
Most books
don't
sell that well. Publishers know that as well as anyone. They know that most books just do not sell well.
What kind of numbers should a first-time author be expecting from an advance for non-fiction?
Somewhere between $5,000 and $15,000.
For fiction?
About the same.
Let's talk a little about the agenting process and what is a fair commission.
Today I'd say 90% of the agents are at 15%. The rest are at 10%. I think that anything more than 15% is not really considered acceptable in the industry, unless there are other services thrown in.
Let's talk a little about the publishing industry itself. Obviously, it's in a state of upheaval with all the mergers and consolidations. How are these changes going to affect the kinds of books that were going to see in the bookstore? And how's it going to affect authors?
Well, it's a trend that started in the early parts of
"The Internet has solved some of the distribution problem of self-published authors. If you self-publish a paper-bound book, how do you distribute it? That's difficult."
this decade. The independent powerhouse book publisher doesn't exist anymore. There's a few. There's a handful. But you still have the names of the people who started these companies a hundred years ago: Prentice, Hall, Harper, Simon, Schuster. But those people, for the most part, don't exist anymore. The publishing houses are owned by huge multi-national corporate entities, for whom book publishing is not all that important. Let's take Viacom, which owns Simon & Schuster. The trade book sales represent probably less than 1% of Viacom's revenue. It's getting the other 99% of its revenue from making movies, producing music, producing TV shows, cable channels, etc. Viacom likes having these book divisions because it gives the company the entire mix in the communications world and, even though it's only 1% of the revenue, publishing a book is still the best way to influence the culture. You reach a very influential pocket of the population with a hardcover book. It goes way beyond the number of people that are actually buying the book. But the way it's going to change and has been changing is that the bottom line is much more crucial than it used to be. Because you don't have individuals, such as Mr. Prentice, saying, "Well this book may not make that much money. It may even lose money, but, you know what? I like it." You don't have that kind of discretion anymore, because you have to answer to the shareholders. You have to answer to the board of directors. It can't just be your own conscience or your own sensibilities anymore that you rely on as an editor. So for that reason there is no risk taking to speak of. It's very limited. Where that has hurt people is you don't have what's known as the midlist -- the books that were never intended to be blockbusters.
How would you define midlist in terms of sales?
As low as 5,000 copies hardcover per year. These are books that were meant to be very modest.
Ok, so we've got the blockbuster and the midlist. Is there a special term you use for the people who sell 50,000 to 100,000 books?
If you can sell 50,000 hardcover in a year, that's bestseller potential -- especially if those 50,000 occurred within a certain timeframe. So there's fewer midrange books being published, which means there's fewer opportunities to get a book published for writers. On the other hand, those who do get published have a potential to make more money. Because there is a lot of money that's being concentrated at the top. So if you can get yourself up there to the top, there's more money to made in that respect.
Another trend that is definitely affecting the publishing industry would be the electronic revolution, especially the rise of the Internet. What's your opinion of this new trend of e-publishing?
Well, the best I can tell it's really just an alternative delivery system. It's the same as when LPs went to CDs, which will go to something else. It's just a different delivery system. I mean someone still has to write it. People will just read it on a Rocket Book or the equivalent.
There's another trend going on, which is electronic self-publishing.
You can self-publish on the Net. But you can self-publish without the Net. It still comes down to: how are you going to get people to your site and read your book on the Net? Unless you have a high-definition monitor it's just impossible to read that much text on a computer. I don't know about you, but I can't read more than a few pages on the typical computer screen without getting nauseous. It's like trying to read in a moving car.
Microsoft has a new delivery system which is supposed to be very easy to read and would alleviate that problem. The ClearType font technology.
Right. That's what's nice about the Rocket Book; it really has high definition contrast. It doesn't have a cathode tube. So you can actually read it for long periods without damaging your eyesight.
Let's talk about this new delivery system of the traditionally created books: those that have been edited by professional editors.
First it will start with the bestsellers and the classics. They will convert all those, so that they can be accessed on something like the Rocket Book. The Rocket Book will be improved and probably bigger companies will be coming in and doing it, and pretty soon you'll be able to buy one of those things for $25 instead of $400. Pretty soon you'll be able to buy the entire Stephen King library on one small disk (or as a download) and travel with it wherever you want to go. You'll have this viewer which weighs just a few ounces. But it's just a different delivery system.
It's the year 2020. Have books printed on paper gone away?
Maybe. The generational thing, you know. It's possible that you may not need paper-based books anymore. It may be possible. But you're still going to need people to write the books. You're still going to need people who edit the books. You're still going to need the publishers of the book, the people who convey the book to the purveyors of the books. You still need a producer of the product.
Well, I guess that's another question. Are we still going to need traditional publishers? Because there's a group of companies that have come onto the Internet who are trying to bypass that entire system.
They'll just become alternative publishers. If they
"Most authors -- most people -- aren't that mediagenic. You'd be surprised, but you don't need to be mediagenic, or even have any media behind you for a book to do well."
don't generate good product, they won't make it. They haven't gotten very far yet, and they're not going to get very far unless they can generate competitive product. That's the bottom line. Books that are not professionally edited are not going to get too far. I don't see it as a threat to writers. It's only a threat to publishers who don't change their technology from being paper-based to being electronic-based. But so long as they stay on their toes and they go with the times so they can shift how they are delivering the product, it doesn't matter. You may have Simon & Schuster twenty years from now not publishing any paper-based product, but it will still be a publisher. Stephen King may not have any more new books being printed in paper, but he'll still be a writer. So I don't think it's a problem. The Internet has solved some of the distribution problem of self-published authors. If you self-publish a paper-bound book, how do you distribute it? That's difficult. The fun thing about the Internet is you can distribute it through the Web. But if nobody goes to your site or doesn't think that there is a reason to go to your site, then you're back where you started when you just printed your own paper-based book. The only reason people will go to your website is because they think there is something on your site that they want.
Take us through a typical Monday for Jeff Herman, the agent.
Well, it's interesting. There's a certain amount of free will. The general tasks on any given day or any given week are the same. I have to do a certain amount of pitching of projects that I'm actively trying to sell. That includes talking to editors, maybe writing a pitch letter. I have to do a certain amount of screening, which is new material that's coming in that I may or may not want to represent. I have to do a certain amount of bookkeeping to see what monies are coming in for clients, and make sure that the money goes out for the clients. I have to make sure the rent gets paid, things like that. I have to do a good deal of telephone work, answering client's calls or questions, editor's calls or questions, things like that. Just like with anyone's day. A certain amount of general correspondence with people. I also try to budget some time to work on my own books.
Do you like to write at night or during the day?
Whenever I can squeeze it in. Weekends, nights, early mornings.
Do you write on the computer?
No, I write on a legal pad. Then I have my assistant transcribe it onto the computer for me, and then I edit it on the computer. I used to compose with a keyboard, but I just stopped doing it.
What are some of your pet peeves in life?
Negative people. People who are always negative and are never appreciative of what they have been given and what they have gotten. People who constantly dwell on all the terrible things.
What do you for fun, to relax?
Watch TV. Read what I want to read. Play with my dogs.
What kind of dogs do you have?
I have a golden retriever, a border collie, a dachshund and an American basset hound.
What do you like to read, when it's your choice?
I like reading newspapers and magazines.
Is there anything else that you'd like to say to our readers?
Have fun with your writing and don't take it too seriously. Don't take
yourself
too seriously. Be courteous and be respectful of other people's time and opinions. Be persistent!
---
More from Writers Write