Imposter by Valerie Freireich Review
Roc, Nov., 1997.
Paperback, 336 pages.
ISBN: 0451456165.
Ordering information:
Amazon.com.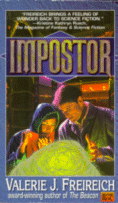 The Polite Harmony of Worlds is a coalition of like-thinking worlds, most of which follow the Jonist belief system which advocates logic, politeness and a striving towards Order. Marcer Brice, an Altered Human, has achieved the status of Academic Researcher, despite the fact of his altered senses, which are looked down upon in the Harmony of Worlds. His alteration, an echo-locating ability similar to those of dolphins on ancient Earth, creates suspicion and fear among the populace so he has learned not to use his altered senses in public. While lecturing to a class, without warning or explanation, Brice is arrested and deported to a crude enemy world known as the Emirates which is ruled by despots. The Emirates culture is based on the old earth middle-eastern cultures with some strange variations. Men who agree to make the journey to Paradise return with beautiful wives known as the Houris -- cruel women with unearthly beauty and a strange power over men. Worshipped as divinities, the Houris bear only sons, never daughters which is much prized in this culture. The Sons are strange, warlike, cold men whose ambition knows no bounds. Destitute and on the run in a strange world, Brice becomes entangled in a web of lies, deceit and political maneuvering after saving the life of the most powerful Son of all -- Idryis Khan. Hoping only to return to his beloved Harmony, Brice's journey will take him from the dregs to the pinnacles of the Emirates society and will lead him to discover a horrifying threat to the survival of the human race which he must neutralize.
With
Imposter
Valerie Freireich firmly cements her standing as one of fantasy's rising stars. The universe containing the Polite Harmony of Worlds, the Emirates, and the Neulanders with their Altered Humans is fascinating and finely-drawn. With non-stop action and a likeable hero with a heart,
Imposter
is a fast-paced, intelligent read which further explores the themes of racial and sexual bigotry and prejudice introduced in her first book set in this universe,
Becoming Human
. A compelling new entry in an intriguing fantasy universe.
---
More from Writers Write
---