I Never Sleep With Movie Stars
by Kristin Harmel
When I tell people the title of my first novel,
How to Sleep With a Movie Star
, I almost always get some sort of amusing reaction. Usually it's a giggle; often it's a raised eyebrow; occasionally it's a sarcastic (and generally unoriginal!) comment from a guy who thinks he's being clever by suggesting that I write my next book about how to sleep with whatever his occupation is.
So I've learned -- the hard way -- to preface the title by explaining, "Before I tell you what it's called, please understand that it's fiction -- not a real how-to guide."
That's because honestly, truly, I wouldn't know how to sleep with a movie star if I tried. Not that I would try. Really -- I wouldn't. That's the whole premise of the book.
See, I've been a contributor to
People
magazine for the last six years, and I've been doing celebrity interviews for more than ten years (since I was 16, actually -- but that's a another Almost Famous story for another day). Among my interviewees: Ben Affleck, Matthew McConaughey, Scott Speedman, LL Cool J ... in other words, lots of gorgeous,
nice
movie stars that any girl in her right mind would be interested in. But I vowed to myself a long time ago that I would never cross the line of professionalism and even think about mixing business with pleasure.
Not that Ben, Matthew, Scott or anyone has actually tried to sleep with me. So maybe it's a moot point. But that's another self-deprecating story for another day too.
In any case, it was this line of thought -- the fact that I'm surrounded by hot movie stars at work but can't do anything about it because of my self-imposed professional ethics -- that made me start wondering what would happen if I did throw my morals out the window and cross the line. (Believe me, when you're drooling over Matthew McConaughey, it's hard not to think like that!) Or worse yet, what would happen if everything I did was on the up and up ... but someone started a rumor that something had happened between me and someone I had interviewed? Sure, celebrity journalists sleep with celebs all the time. But they become "that girl who slept with that movie star." And I never wanted to be that. I'm really proud of what I do for a living -- and of the fact that I didn't need to sleep with anyone to get here.
So I mixed those thoughts with a universal theme that most of us can identify with: romantic frustration. Claire Reilly, the main character in
How to Sleep With a Movie Star
, has a terrible boyfriend who takes her for granted and uses her, and her romantic life is basically a disaster. Who hasn't been there at some point in our single lives? But unlike the rest of us, right when Claire's love life is at its most disastrous, Hollywood's most eligible bachelor is suddenly there.
And just in case you were wondering, this turn of events is most certainly not based on my life. No, my last romantic disaster ended with lots of cursing, ice cream eating and blubbering to my friends -- not a surprise appearance from a movie star. I did check the doorstep on numerous occasions, but Matthew McConaughey unfortunately never materialized. Nor did Ben Affleck. Rats.
My editor at Warner Books, Amy Einhorn, describes
How to Sleep with a Movie Star
as "
Cinderella
meets
Notting Hill
," a description I love, because who doesn't like a fairy tale -- and who isn't intrigued by a story of a famous movie star and a normal, everyday person like you and me? The thing is, the story's not so far-fetched: Hey, movie stars are people too. And who knows ... your very own movie star (or better yet, your very own great guy who values you for everything you are) could be right around the corner.
Join me in reading
How to Sleep With a Movie Star
, and find out what happens when Claire's professional ethics are put to the test - by the hottest, nicest man she's ever seen but knows she can never date. I'd love to hear what you think: Visit me at
www.KristinHarmel.com
and tell me your thoughts!
Happy reading!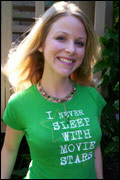 **Kristin Harmel is a contributor for People magazine where she has interviewed numerous celebrities. She has been an adjunct journalism instructor at the University of Florida and has lived in Paris, New York, Boston, Tampa Bay, and Miami. She currently lives in Orlando and is working on her second novel.
---
More from Writers Write