How to Become a Rainmaker Review
How to Become a Rainmaker
by Jeffrey J. Fox
Hyperion, May 2000.
Hardcover, 169 pages.
ISBN: 0786865954.
Ordering information:
Amazon.com.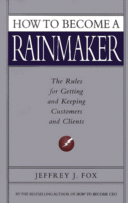 How to Become a Rainmaker
provides practical advice and wisdom about how to make sales and bring in new customers. Some of the key concepts introduced in the book are: fish where the big fish are, show them the money, dollarizing, killer sales questions, don't drink coffee on a sales call, treat everybody you meet as a potential client, always do an investment return analysis, never be in a meeting, dare to be dumb, sell on Friday afternoons, a shot on goal is never a bad play and don't make cold calls. Each concept is also enforced with explanations and real-world examples.
Jeffrey J. Fox
, author of the
How to Become CEO
and founder of Fox & Co., a marketing consulting company, provides plenty of practical and inspirational advice in this guide that is sure to make a better salesman out of you. As Fox explains learning how to keep and attract customers is essential to any employee and the most valued employees are those that learn the skills that help bring in and keep customers. Sales professionals and corporate employees who yearn to break out of the mold and excel in their profession can take a big step towards that goal with this book.
---
More from Writers Write