Holy Terror in the Hebrides by Jeanne M. Dams Review
Walker & Co., Nov.,1997.
184 pp. ISBN: 0802733115
Hardcover.
Ordering information:
Amazon.com.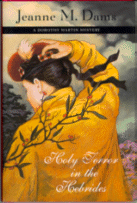 Expatriate American widow Dorothy Martin has found a new home in England. When her friends the Andersons invite her for a visit to their cottage on the lovely isle of Iona in the Hebrides, Scotland, she accepts with alacrity. But the trip does not go smoothly. Her hosts are unable to join her right away. She then loses the key to the cottage and so is forced to move into a local hotel, which is populated by a traveling ecumenical group from Chicago whose members seem anything but religious or tolerant. To make things worse, a severe storm is moving towards Iona. During a day trip to the famous Fingal's Cave, one of the group falls to his death from the rocks above the roiling waters -- right in front of Dorothy's eyes. Ruled an accident, the death looks more like murder to Dorothy as she discovers more and more reasons why this particular member of the group was so unpopular. When the storm arrives and cuts off the island, Dorothy is left to fend for herself and to track down a murderer using only her wits and knowledge of human nature.
This is the third entry in the Dorothy Martin series by Agatha-award winning author
Jeanne M. Dams
following
The Body in the Transept
and
Trouble in the Town Hall
. A true Scottish village murder mystery,
Holy Terror in the Hebrides
is a delightful read for cozy lovers. Dorothy Martin is an endearing sleuth with a style all her own. The ambience and beauty of the isle of Iona and the vivid characterizations of both the inhabitants and the tourists on the island combine for a charming tale.
---
More from Writers Write
---