Holiday in Death by J.D. Robb Review
Berkley, June 1998.
Paperback, 326 pages.
ISBN: 0425163717.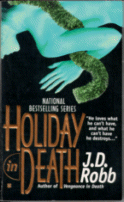 As the year 2058 comes to an end, most people in New York are filling their days with Christmas shopping and making plans for New Year's Eve. But for one crazed serial killer the holidays are simply the setting for his gruesome murders, and it's up to police Lt. Eve Dallas, still recovering from injuries sustained on her last case to find the killer. The victims have one thing in common -- they all had dates at the hi-tech and expensive dating service called Personally Yours. With the help of her charming and talented real estate mogul husband Roarke, her assistant, Officer Peabody, and Officer Ian McNab (who Peabody cannot stand), Eve sets out to stop a killer from striking again while dealing with the demons of her own past which are dredged up by the serial killer's modus operandi.
The incredibly versatile Nora Roberts, writing here as J.D. Robb, has created another fascinating installment in her futuristic suspense series. The Manhattan in the year 2058 that she evokes is both strange and yet eerily familiar. Eve is a complex, multi-layered character who readers will root for as she does her job while dealing with her own tragic past. A real sense of menace pervades the atmosphere in this gritty and compelling tale which will have readers on the edge of their seats until the very last page.
--Claire E. White
Ordering information: Amazon.com.
---
More from Writers Write
---