Hasty Retreat by Kate Gallison Review
Dell, Apr., 1998.
Hardcover, 247 pages.
ISBN: 0440224101.
Ordering information:
Amazon.com.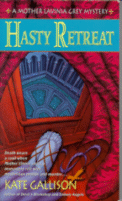 What Mother Lavinia Grey really needs is some rest and relaxation and a chance to get away from her problems at St. Bede's church. The opportunity to spend a few days at a quiet Episcopal monestary sounds heaven-sent. So with her good friend Deacon Deedee Gilchrist and a few parishioners, Mother Lavinia sets off for the retreat. Before long, Mother Vinnie begins to notice some odd happenings at the monastary which are interfering with her spiritual repose: mysterious comings and goings by the monks, beautiful furniture which appears and disappears and obnoxious guests . When elderly Brother Basil goes missing it's clear that something is amiss at the monastary, so naturally amateur sleuth and Episcopal priest Mother Vinnie takes on the challenge. What she finds is a tangled web of secrets and someone who is willing to commit violence in order to cover them up.
This is the fourth mystery by Kate Gallison starring priest and amateur sleuth Mother Vinnie. A light, cozy who-done-it with an ecclesiastical flair,
Hasty Retreat
is a charming book with a popular and amusing heroine. A delightful read for those who enjoy a religious amateur sleuth in the vein of Ralph McInerny's.
---
More from Writers Write
---