Hanukkah Lights, Hanukkah Nights Review
Hanukkah Lights, Hanukkah Nights
by Leslie Kimmelman, Illustrated by John Himmelman
HarperFestival, Oct., 1999.
Board Book, 22 pages
Ages Baby through Preschool
ISBN: 0694014370.
Ordering information:
Amazon.com.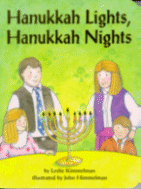 This board book edition of the Hannukah story has pastel, cheery illustrations of a family celebrating Hanukkah day by day. With minimal text, the board book edition is most useful as the baby's first introduction to the traditions of Hannukah.
The family lights the shammash candle, sip chicken soup, chant the holiday blessings, play with dreidels, and sing holiday songs, while "the nephews fight like Maccabbees." The picture of the cats playing with the chocolate gelt is also quite funny.
An attractive introduction to the joys of the Festival of Lights, this board book would make a great Hannukah gift.
---
More from Writers Write
---