General Fiction Reviews
The Best Laid Plans by Sidney Sheldon
William Morrow, Oct., 1997.
Hardcover, 358 pages.
ISBN: 0688149111.
Ordering information:
Amazon.com.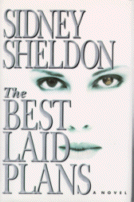 Leslie Stewart, a beautiful and intelligent publicist for a local company, is determined to make handsome bachelor Oliver Russell's political campaign a success despite his miniscule budget and enormous competition. Not only is she determined because she wants to do a good job, but because she is also falling for him. However, when it turns out money is needed to make the campaign a success he marries senator Todd Davis' daughter to be in his favor and receive his handouts -- breaking his wedding promise to Leslie just one week before the wedding date. Everyone in town now knows about the wedding debacle and she is completely humiliated publicly. She secretly promises to get revenge and sets out to build a media empire hoping to eventually use the power of the press against her ex-lover. She starts out with a small newspaper and uses her intelligence and determination to work her way to the top and then starts buying other papers, eventually working her way to owning the
Washington Tribune
. Meanwhile, Oliver continues his rise to the top of politics -- the presidency. That's just fine for Stewart -- the bigger they are the harder they fall. Will she get the revenge she so desperately needs? Or does she still love him? The tension in the story builds to a surprising and exciting conclusion.
This engaging political potboiler from popular novelist Sidney Sheldon has all the makings of winner. Corruption, greed and revenge are powerful motivators in
The Best Laid Plans
which includes exciting looks into the upper realms of politics and an inside look at the newspaper and reporting business. Sheldon's character, Dana Evans, a reporter whose desire brings her to report, despite the danger, on war ravaged Sarajevo is particularly well-done.
---
Thrill by Jackie Collins
Simon and Schuster, Feb., 1998.
Hardcover, 479 pages.
ISBN: 068485029X.
Ordering information:
Amazon.com.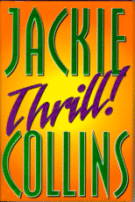 The Raunchy Moralist herself -- so christened by film director Louis Malle -- is back again with another steamy, mesmerizing tale of the inside life of Hollywood's greatest superstars.
Thrill
centers around the beautiful and talented megastar Laura Ivory who, despite her beauty, can never seem to sustain a relationship. No man so far can deal with being "Mr. Ivory" and the fame and adulation that her star status brings. When Laura meets devastatingly handsome unknown actor Joey Lorenzo sparks fly and Joey seems totally unintimidated by Laura's celebrity status. But Joey's background is somewhat mysterious and his motives for the romance are far from clear. Meanwhile, a crazed fan has been stalking Laura growing more and more obsessed and dangerous with each passing day that the star ignores her.
Laura's ex-husband is the brilliant film director Richard Barry, who is married to Laura's best friend, costume designer Nikki Barry. When Nikki talks Laura into starring in her first film, a low-budget gritty rape/revenge movie, Richard, who may harbor feelings for his former wife, is furious and tries to talk Laura out of doing the film. As the filming of the movie progresses, the Barry's marriage gets more and more strained and Laura becomes more and more confused about who she should trust. The passion and action accelerate until the shattering denouement on a stormy night on the Malibu coast when the stalker traps Laura in a deserted house while the two men in her life rush to save her. Will they be in time?
Thrill
is an erotic, psychological thriller with enough sex, drugs, action, betrayals and true love to keep readers riveted to the pages. Because Collins bases her characters on real Hollywood insiders, it is always great fun to guess who the characters really represent. A wild, fast and fun read,
Thrill
is the book to grab when heading off to the beach or when you feel like escaping into the glittery, larger-than-life world which Collins' characters inhabit.
---
Return to Book Reviews Index
---
More from Writers Write
---