General Fiction Reviews
Bridget Jones: The Edge of Reason by Helen Fielding
Viking, Feb., 2000.
Hardcover, 352 pages.
ISBN: 0670892963.
Ordering information:
Amazon.com.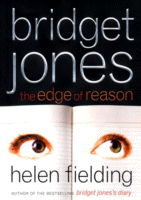 Bridget Jones, the Modern Single Everywoman is back in this sequel to the runaway bestseller,
Bridget Jones' Diary
. Bridget has actually found a boyfriend, Mark Darcy, but now an entirely new set of problems arise. Competition arrives on the scene in the form of the loathsome Rebecca who is determined to steal Mark away, using every weapon at her disposal including "thighs like a baby giraffe's." Bridget's friends are also trapped in the third rung of Dating Hell, and what's worse, Jude is determined to marry Vile Richard (although she swears she will never become a Smug Married). A series of farcical and hilarious misunderstandings send Bridget and her friends running to their collection of pop psychology self-help books for assistance, and Mark Darcy running for cover. The pace kicks into high gear when Bridget sets off for a disastrous trip to Thailand and she is arrested for drug smuggling, through no fault of her own. The upside? Thai prisons are a great diet aid. The unsinkable Bridget Jones will survive because of her powers of persuasion and her knowledge of all the words to Madonna's latest album -- but will she ever find a man to love, lose that last 5 pounds and develop Inner Poise?
If possible, the second Bridget Jones novel is even funnier than the first one. Fielding steps up the pace, and Bridget's life can't help but remind one of Bertie Wooster's: were he female and living in the 21st century. From the transcript of the funniest interview ever with British actor Colin Firth to the riffs on everything from dieting to having one's flat remodeled, Fielding is in top form here. It's laugh-out-loud funny, and you're sure to want to buy a copy for everyone you know. Highly recommended.
--Claire E. White
---
The Borderland: A Novel of Texas by Edwin Shrake
Hyperion, April, 2000.
Hardcover, 432 pages
ISBN: 0786865792.
Ordering information:
Amazon.com.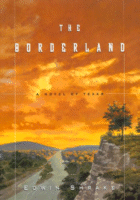 As with all good books, this story demanded to be written, and readers of adventure are indeed fortunate the Edwin Shrake has done such an exciting job of picturing the struggling Republic of Texas in its infancy. It is obvious that Mr. Shrake has read widely and schooled his story telling talent in the letters and diaries of early Texas. Do not look for noble savages or clear-eyed frontier heroes in this fascinating tale. Political correctness is a late twentieth century attitude that did not occur to nineteenth century people who lived on the edges of civilization. In a land where one was free to invent one's own prejudices and viewpoints with no popular press to insist on cultural sensitivity or cause one to wonder about emotional shortcomings, people were free to act on their own personal codes of behavior with little fear of being called to account.
The Borderland
will take you back to the viewpoints that changed the world forever, and you will share the adventure of it all in the mind set of the times.
The Borderland
begins with a meeting between four Comanches, the Fighting Man, the Talking Man, the Thinking Man and the Dark Man sitting around a fire discussing their feelings about the arrival of "the men who wear hats". It is here that we meet the Comanche mind and viewpoint, a viewpoint completely apart from the European-Christian outlook. The stage is set.
Comancheria, as it was then called was mainly on the South side of the Colorado River which flows in a largely southwest direction across Texas, uniting finally with the Gulf of Mexico. Austin, a small settlement situated in a river valley , has been chosen as the new capitol of Texas by Mirabeau B. Lamar, the new president of the republic. Lamar is distressed by the hot, steamy, insect inhabited climate of Houston and has chosen the more pleasant and scenic venue of Austin as the new seat of government for the new nation. This would be farther from Mexico but it is unwittingly in the middle of land sacred to the Comanches. Off to the east is a settlement of the highly civilized and spiritual Cherokees, ancient enemies of the Comanches.
As every reader knows, when the characters that the author brings on stage already suggest a particular actor, one has selected a great book to read. Edwin Shrake will introduce you to characters every bit as complex and unique as any the Charles Dickens ever invented. From a half -Cherokee physician with blue eyes and a degree in medicine from the University of Edinburgh to the Texas Ranger with a speckled beard and a reputation that precedes him all along the frontier, the reader will be carried along into Texas as it really was. This is a "tell it like it really was" tale that will not fail to entertain. The Borderland is ribald, and not for the genteel reader, but it is a terrific adventure right through to the last page.
--Sarah Reaves White
---
Return to Book Reviews Index
---
More from Writers Write