General Fiction Reviews
Chocolat by Joanne Harris
Viking, Feb., 1999.
Hardcover, 242 pages.
ISBN: 0670881791.
Ordering information:
Amazon.com.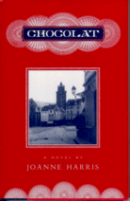 In the tiny, drab town of Lansquenet-sous-Tannes, France, (population 200) it is carnival time, just before Lent begins. The wind is changing and, on its heels, in sweeps beautiful single mother Vianne Rocher and her six year old daughter Anouk on a tide of gossip from the curious inhabitants. The mysterious new residents promptly open a chocolate shop across the town square from the church, much to the dismay of the puritanical Father Reynaud, who fears for the Lenten vows of his parishioners. Horrified at Vianne's unabashedly single state and friendly and carefree ways, the town's busybodies, encouraged by the priest, set out on a campaign to malign the lovely Vianne and ruin her business. But Vianne is not so easily dissuaded, and soon her delicious confections and ability to see into the hearts and souls of her customers earn her many friends and a successful business. Some claim she is a witch, others feel she is an angel and that the evil resides in the town's church which hides some rather nasty secrets. When Vianne organizes a chocolate festival to occur on Easter day, the priest is beside himself with fury for what he sees as a return to paganism, and sets events in motion which will lead to a terrible showdown between good and evil.
Chocolat
is an absolutely enchanting novel by Joanne Harris. With lyrical, loving and mouthwatering discussions of the wares of the chocolaterie and lilting prose, the novel sweeps the reader into a compelling and sometimes magical and passionate tale of good and evil -- and the strange faces behind which they sometimes reside. The characters, especially of Vianne and of her mother, are especially well-drawn, and the humor is soft and subtle -- except for one crucial scene which will elicit loud laughter for the fate of the hypocritical. Highly Recommended.
-Claire E. White
---
The Magic Circle by Kathryn Neville
Ballantine, Feb., 1999.
Paperback.
ISBN: 0345423135.
Ordering information:
Amazon.com.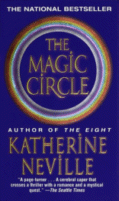 Ariel Behn is a nuclear scientist at a secure facility. Devastated to learn of her brother Sam's sudden death, she is immediately plunged into a world of intrigue when she is informed that she is the sole heir to Sam's considerable fortune. She has also inherited a strange manuscript which a large number of nasty people seem determined to get their hands on. The manuscript supposedly contains the location of a number of sacred objects which could be used to harness great power in the coming Millennium. While tracking down the provenance of the manuscript, Ariel comes face to face with some very nasty and shocking facts about her already-bizarre family. Apparently they were friends with Hitler himself (affectionately known as "Lucky"), and had a hand in creating the mysterious manuscript. Along the way, Ariel will meet love, lies, betrayal and some very odd characters, indeed.
Katherine Neville, author of the bestselling novel
The Eight
, has crafted an exciting tale with
The Magic Circle
. The story is told by flashing back to various historical periods and back to the present day and Ariel's story. The historical flashbacks take us to Jesus' last days on Earth, Hitler's last days, Alexander the Great's time, and many other places and times. The narrative bogs down when it describes Ariel's incredibly complicated family tree; some judicial editing here would have been invaluable. But the historical asides which touch on everything from astronomy to religion are interesting, and Ariel's adventures while searching for the manuscript are entertaining. Fans of history, mysticism and the occult will find much of interest here.
---
Return to Book Reviews Index
---
More from Writers Write