Four and Twenty Blackbirds by Mercedes Lackey Review
Baen., Dec., 1997.
Hardcover, 432 pages.
ISBN: 0671878530.
Ordering information:
Amazon.com.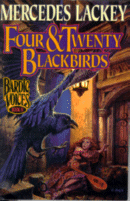 Tal Rufen, a constable, is deeply troubled by recent violent murder-suicides in his hometown of Haldene. Several cases have occurred in which a man kills a woman with an unusual three-sided dagger that disappears from the scene in each crime, and then the man violently kills himself. In each case the victims are those unlikely to be missed by family or friends and the women all have a musical interest or talent. Tal's superiors choose to overlook the association of the murders so he pursues his own investigation contacting constables in other cities to find out if similar killings have occurred elsewhere. Tal finds that they have and that there is a definite pattern; the killings occur for a short period of time in each town then the killer moves on. Tal notices the next likely spot is the city of Kingford so he travels there and consults the High Bishop Ardis. Unlike Tal's superiors in Haldene, the High Bishop is very interested in the cases and appoints him as her personal guard so that Tal Rufen will have all the clout necessary to run an investigation and discover who is responsible for these mysterious killings. With his new title and the help of the Bishop, with whom he is falling in love, and a bird-man named Visyr, the race is on to discover the magical killer.
This novel by Mercedes Lackey, the fourth in the Bardic Voices series, provides wonderful detail of what life is like in Alanda while also providing a compelling murder mystery involving magic. The novel can be read as a stand-alone as well. Fantasy readers will love the characters, learning the policies and life of the Priests of Alanda and Lackey's meticulous attention to details.
---
More from Writers Write