A Conversation With Fern Michaels
by Claire E. White
In typically modest fashion, internationally bestselling author
Fern Michaels
claims that she isn't really a great writer, she's "just a scribbler." She will admit, though, to being "a hell of storyteller." Her millions of fans enthusiastically agree, lining up to buy her latest book the minute it hits the bookstores. The author of over sixty-seven books, the majority of which are
New York Times
bestsellers, she has over sixty million copies of her books in print. She says that Fern Michaels isn't who she
is
, it's what she (Mary Ruth Kuczkir)
does
.
As a girl growing up in Hastings, Pennsylvania, one of her greatest joys growing up was reading. Her school friends called her Ruth, but her father and family always called her "Dink", a name her father gave her when she was born because according to him she was "a dinky little thing" weighing in at four and a half pounds. However, she now answers to Fern since "people are more comfortable with a name they can pronounce."
After graduation, she got a job, got married, and had five kids, devoting her days to her family. When her youngest child went off to kindergarten, her husband informed her that it was time "to get off her ass and get a job." "Those were his exact words," she recalls. Not knowing how to do anything except be a wife and mother, she was at a loss to figure out her career path. But she remembered her childhood spent in the local library, and thought perhaps she could write a book. When she confided her plan to her husband at the time -- who was less than supportive, to say the least -- his reaction was "Stupid is as stupid does." For some reason, she says, that didn't intimidate her. So she sat down and started writing, and when it was finished, she sent the manuscript off. Her second manuscript crossed in the mail with the rejection letter of the first. The second manuscript was published, and Michaels has never looked back. Sixty-seven books and scores of
New York Times
bestsellers later, such as
Vegas Rich
,
Vegas Heat
and
Vegas Sunrise
, the unsupportive husband is now an ex-husband, and Fern Michaels has officially made it to the top, all by herself.
Although those early years were difficult, Fern never gave up. She put all five of her children through college, with no outside support, which is one of the accomplishments of which she is the most proud. After her children were grown, she decided that some more changes in her life were in order. Four years ago she left Ballantine Books, parted company with her agent, sold her house in New Jersey that she had lived in all her married life and moved to South Carolina. It turned out to be the right decision. She found a new home at Kensington Books, got a new agent and moved into a new house with her five adorable Yorkies. Her new home is a 300 year-old plantation house that is listed in the National Registry that she remodeled. Today it is a beautiful residence, with exquisite gardens and old Angel Oaks that drip Spanish moss. The house came with a permanent resident: a ghost that Fern just couldn't seem to get to relocate with the former owners. Mary Margaret, as she is called, is "a friendly". She is also mischievous. When Fern moved into the house, it took her two weeks to figure out that Mary Margaret didn't like her coffee cups. They would slide off the table or counter or else they'd break in the dishwasher. So Fern bought red checkered cups -- which are all still intact. Mary Margaret moves pillows from one room to the other and she stops all the clocks in the house at 9:10 in the a.m. at least once a week. When the azaleas are in bloom, Fern will find blooms on her night stand, and during the warm months she sees her front porch swing moving early in the morning when the air is still and again late in the day.
She truly loves writing: especially when she gets that spark of an idea which will lead to entire book, or perhaps even a series of books, such as the bestselling Texas series, which follows the lives and loves of the wealthy Coleman family. Her books usually feature women who persevere and prevail, because "that's what I had to do to get to this point in time. It's another way of saying it doesn't matter where you've been, what matters is where you're going and how you get there."
Now a financial and critical success, Fern gives back to society, saying
"My old Polish grandmother said something to me when I was little that I never forgot. She said when God is good to you, you have to give back." That was the impetus for The Fern Michaels Foundation, which grants four year scholarships to needy, deserving students. She also opened pre-school and day care centers with affordable rates for single moms who are having a hard time of it. It gives her great joy to be able to help other single moms who are having a hard time of things, saying "There isn't a day that goes by that I don't thank God for being so good to me. I don't know what I'm the most proud of, the books I write, the scholarships, the pre-schools or the fact that I put my kids through college on my own with no help from anyone. Probably the latter because when all else is said and done, the only thing that matters is family."
When she's not working, you might find her playing with her beloved dogs (dogs are usually featured in her stories), buying Christmas presents ahead of time, spending time with her family, or curled up with a good book. Fern spoke with us about the reissue in hardcover of
Texas Rich
, the inspiration for one of her favorite characters, Billie Coleman, and what writers must do in order to be a success.
What did you like to read when you were a little girl?
The Bobbsey Twins
when I was really young. Then I went on to
Nancy Drew
,
The Hardy Boys
,
Cherry Ames
and any kind of mystery story I could find. I had the opportunity to meet the original Carolyn Keene some years ago, and she gave me a hug when I told her I had read every single one of her books. That meeting is one of my fondest memories.
As a young mother looking for a career, what inspired you to write your first novel? Had you always wanted to be a writer?
I don't know about inspired. It was more like motivated. My husband told me to get off my ass and get a job. That's a direct quote, by the way. It was greed, pure and simple. I thought if you wrote a book you would become a millionaire over night. I don't have any conscious memories of wanting to be a writer. I did well in the essay, book report department during school and I also wrote book reports for a lot of the kids in my class. They in turn did my math homework. I really stink at math. It worked for us.
When faced with adversity, some people come through fine, and others seem to just fall apart. What gave you the courage to keep going in the early days, when times were tough?
I'm stubborn. Astrologically, I'm an Aires and Aires are by nature stubborn and tend to butt their heads against stone walls and never give up. That's me. I give everything 110%. There is just something about failure that I cannot accept.
When Oprah Winfrey first made a lot of money, she said that the first thing she bought was lots of expensive, high-quality towels. Do you remember the first thing you bought when your first novel sold?
I sure do remember because I still have it in a box somewhere. I bought this classy toilet seat with a frog on the lid and little frogs all over the seat. The kids loved it. I also bought a new lock for the bathroom door and with the money that was left, I bought a hind quarter of beef for our freezer.
I'd like to talk about the re-release in hardcover of the Texas series. Texas Rich starts of the saga of the Coleman family. What was your inspiration for this series?
I was watching a late afternoon talk show out of Philadelphia one afternoon and saw this lovely, fragile looking woman being interviewed. It was Moira (I'm not sure how you spell her name) Lear. Her husband was Bill Lear of Learjet fame. Mike Douglas, the host asked her why she let him humiliate her with his philandering and why did she constantly take him back after one of his escapades. She looked right into the camera and said, "Because I loved him." You could see the tears in her eyes. I remember thinking, wow, what a lady. So, she was the role model for Billie Coleman. It was the best choice I could have made.
The book opens in Philadelphia during World War II, and spans quite a number of years. What attracted you to writing about the 1940s?
It was such a romantic time period with all those wonderful, old war movies. Gregory Peck, William Holden, John Wayne, Robert Mitchum. They were just spectacular to my way of thinking. I was born and raised in Pennsylvania and was very familiar with the Philadelphia ship yard. It all just fell into place. They always say write what you know about so I did.
The matriarch of the Coleman family is Billie Coleman, a complex woman who learns how to stand up for herself. How did you create the character of Billie? Were there any characteristics that you wanted to avoid with her?
"I'm stubborn. Astrologically, I'm an Aires and Aires are by nature stubborn and tend to butt their heads against stone walls and never give up. That's me. I give everything 110%. There is just something about failure that I cannot accept."
I wanted her to be all things. She was sweet and gentle but with an inner core of steel. I think I have that inner core. I'm not sweet and gentle, though. My sister is. I patterned Billie after both of us and Moira Lear. I never wanted her to be mean and snarly. I think Billie grew into her character the way we all do with our lives. She had dignity which to me is very important in a woman. She was honest and in your face in a nice way. I wanted Billie to be my best friend and she was for many, many years.
You are known both for your multi-volume sagas, such as the Texas series, as well as for your shorter, stand-alone novels, such as Charming Lily. Which do you prefer writing?
I like the stand-alone books the best. The sagas are difficult to write and you have to stretch them into three books. You really do run out of plot lines and if you aren't careful they can read like a soap opera. The stand alone book can be taken from almost any headline in the paper on any given day.
What You Wish For
was about white collar spousal abuse.
Finders Keepers
was about a child being kidnapped.
Plain Jane
was about a secret the main character never told when it could have saved someone's life. That kind of thing. Sagas are more character driven and very little plot. The upside to sagas is you come to know the characters much better than in a stand alone because you're working on three books. There for a while, I was calling my kids by the character's names. And when I would start a new book, I was typing the old characters' names.
Please tell us about your upcoming release, Kentucky Rich. I understand it will feature the Coleman family from the Texas series and the Thornton family from the Vegas series?
Yes, it features both families. I really love this series. In fact, just the other day, I decided that out of the three, it's my favorite. I think the readers who read the other series are going to like it a lot.
How do you approach writing a new "big" series, such as the new Kentucky series? Do you use outlines or character biographies to keep all the characters and plotlines straight?
I try to do all that but by day three, it's in the trash. I write off the top of my head. I do have an outline of sorts and detailed character sketches but once I read through them, that's it. I create as I go along. I can never keep it straight and rely on my editor to keep me in line. She gets confused, too. I guess you could say we kind of/sort of wing it.
In Charming Lily, wilderness expert Lily Harper gets left at the altar for the second time by computer tycoon Matt Starr. When Matt is kidnapped, Lily needs a little supernatural help to find him. What went into your decision to add a touch of the supernatural to the story?
I love supernatural stuff. I have my own ghost and I know scads of people who have had real experiences with stuff like that. We have these intense discussions on the supernatural and what I put in there is all within the realm of possibility. I really like doing it. The readers say they like it, too. Like I said, I write off the top of my head and that kind of stuff is just hanging out there waiting to be picked up. It works. I always try to leave "another" explanation for those non believers,
e.g.
, they were dreaming, etc.
What is a typical writing day like for you? Do you keep to a set schedule? What are your surroundings?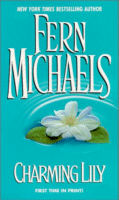 There was a time when I did have a schedule. Eight to five, that kind of thing. I write every day, sometimes at different times of the day. Depends on my mood. Having said that, the one thing I have not deviated from is the 5000 word goal. When I sit down on any given day to write, I don't stop till I do the 5000 words. I might not work for two days after that, though. My surroundings reflect me. First, all my dogs are with me. My office is at the end of the house with its own entrance. I leave the door open in nice weather and the dogs can go in and out. I have a garden full of bird feeders and I can see all the birds when I'm working. My office has seven windows that overlook all the gardens. I also have a huge, floor to ceiling field stone fireplace with two big easy chairs on each side with paddle fans overhead. I have wall to wall book shelves, a three hundred year old pine floor, a custom built desk with two computers. One for trash stuff and one for writing stuff. I have lots of green plants. I have six dog beds lined up. Tons of junk food and chews for the dogs all over my desk. A day doesn't go by that I don't have fresh flowers on my desk. Even if it's just one bloom in a vase of water. I can't work unless I have flowers. Hey, it works for me. I hang out here most of the day so I want it to be a happy, restful room and it is. It's huge. I also have a bar sink and a mini bar full of coca cola that I swig all day long.
You are so prolific. Have you ever faced writer's block? If so, how did you deal with it?
Nope, I've never had writer's block. Thank you, God.
What is the greatest challenge you have had to overcome in your writing career?
"I like progress and I'm sure it's going to happen, but I don't ever want books to fall by the wayside. There's something so wonderful about picking up a book, cracking the spine and settling down for a good long read. I love books. I love going to old libraries and love the smells of the books. From childhood on, libraries were always magical places to me."
I hate to say this but I haven't had any challenges. It really has been smooth sailing for me.
When you sit down to start a new book, do you have a specific reader in mind?
No, I don't. I just write what I like to read. From my email and other mail, my readers are all ages and from all parts of the globe.
What is your advice to aspiring writers?
My advice is to sit down and DO IT. Don't listen to anyone but yourself. Believe in yourself and don't give up. If you persevere, you will prevail. I'm the living proof.
What is your opinion of ebooks? Do you think that in twenty years, people will be reading your works on an electronic reader instead of in print?
Gee, I don't know. I like progress and I'm sure it's going to happen but I don't ever want books to fall by the wayside. There's a place for everything in life. There's something so wonderful about picking up a book, cracking the spine and settling down for a good long read. I love books. I love going to old libraries and love the smells of the books. From childhood on, libraries were always magical places to me.
Tell us about your Yorkies. Have you always been a dog lover? How many dogs do you have right now?
They are amazing and wonderful. They are feisty and fearless and so lovable. Two of them are sitting on my desk right now and one is curled up behind me on my chair. They make wonderful companions and they are super intelligent. I have six dogs right now. I just got a rescued Boykin Spaniel. He's a big dog, 75 pounds now. When I got him he was starved and only weighed 11 pounds but he was a puppy. He'd been beaten. He's like a big wet noodle and the little dogs love him. He's gentle with them, too.
It is true that you live with a ghost? Tell us about her. Does she bother the dogs?
Yep, I have a ghost. Her name is Mary Margaret. We co-habit nicely. Once in a while she goes on a toot and wrecks havoc and then we have a little talk. No, the dogs aren't afraid of her. I always know when she's around because they look like they're at a tennis match. The room will always get a little cold, too. She's playful. She moves stuff, knocks stuff over but does not break it. She leaves me flowers on my night stand. She messes with my computer. That's usually when we have "a little talk." She doesn't scare or spook me. I guess I'm used to her by now.
You include a number of recipes on your website. Do you love to cook? What are some of your favorite dishes?
I used to love to cook when my kids were younger. Yes, I do like to cook but I don't do it much anymore except for holidays. It's hard to cook for one person. I did take gourmet cooking lessons. The kids said, "This is good but don't make it again." My own personal taste runs to things cooked in one pot; stew, stuffed peppers, pot roast with vegetables. I'm pretty much a vegetarian these days.
Would you say that you are a romantic at heart?
Absolutely, I am a romantic at heart.
Fern on her front porch.
When you're not working, what are some of your favorite ways to relax and have fun?
I like to hike. I like to visit with friends. I
love
to shop. I Christmas shop all year long. I like going to antique stores but I never buy anything. I just like to look. I like old things but I don't like old, moldy things with outrageous price tags. I'm a fair gardener but it would never become my life's passion. Writing is what I love doing the most. Sometimes taking time off is almost like a punishment. I've been all over the world, so traveling holds no interest. There's no place like home at least for me. I love taking all the dogs for walks. They more or less drag me along. For pure relaxation, I love curling up with a good book and my dogs.
---
More from Writers Write