Feminine Wiles Review
Feminine Wiles: Creative Techniques for Writing Women's Feature Stories that Sell
by Donna Elizabeth Boetig
American West Books, September 1998.
Trade Paperback, 184 pages.
ISBN: 1884956025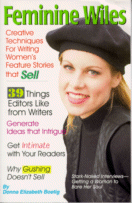 Successful freelancer and writing teacher Donna Elizabeth Boetig, who has been published in numerous women's magazines including Family Circle, McCall's, Reader's Digest and Woman's Day, guides writers toward the goal of publishing women's feature articles in Feminine Wiles. Her book is based on her experiences as a freelance writer and her popular writing seminars which are held across the U.S. and in Canada.
Boetig addresses common stumbling blocks for writers including: a writer's first publication (the first time), finding ideas, writing query letters, getting interviews, interviewing skills, photographs, drama in women's stories, bylines, titles, submissions and self-promotion. The reference also includes special writing tips and techniques including the Wall Street Journal formula, a seven part formula to writing feature stories from the lead to the closing, and the Reader's Digest secret formula, a springboard to writing women's true stories.
Donna Boetig has created a comprehensive tool for getting published in women's markets, from finding ideas and interviews to writing effective and saleable articles. Feminine Wiles is an invaluable reference for freelancers seeking to learn how to write women's articles and stories -- and get them published. Highly Recommended.
Ordering information: Amazon.com.
---
More from Writers Write