Fantasy/SF Book Reviews
The Internet Writing Journal
Page Two of Two
The Portrait of Mrs. Charbuque by Jeffrey Ford
William Morrow, June, 2002
Hardcover, 310 pages
ISBN: 0066211263
Ordering information:
Amazon.com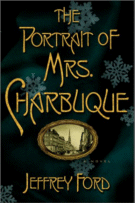 Jeffrey Ford burst on the literary scene with his fantastic novels,
The Physiognomy
and
Memoranda
. Now, Ford takes readers back to 1893 New York. Piero Piambo is society's favorite portrait artist. Adored by the noveau riche, Piambo despises himself for selling out to the highest bidder. Still, he is doing quite well, financially. One day, a blind man approaches him and offers him an exceptional job which will not only pay an extraordinary fee, but will pose a great challenge to Piambo's artistry. Piambo must paint an exact likeness of the mysterious Mrs. Charbuque. The catch: she will remain seated behind a screen, and Piambo must figure out what she looks like from the stories she tells him. As Mrs. Charbuque tells Piambo the bizarre story of her life, Piambo becomes obsessed with finding out what his subject looks like. Meanwhile, the city is in the grip of a grisly serial killer who leaves his victims weeping from the eyes. Could Mrs. Charbuque be connected in some way to the deaths?
No one tells a story or creates a landscape quite like Jeffrey Ford. As Mrs. Charbuque spins her spider web of stories, the reader finds himself fantasizing about the appearance of the lady. Is she beautiful? Horribly ugly? Perhaps deformed in some way? And poor Piambo -- he is nearly being driven mad by the wondering. At turns, captivating, macabre and ghoulishly funny,
The Portrait of Mrs. Charbuque
is classic Jeffrey Ford: it is simply riveting.
---
Starman by Sara Douglass
Tor, May, 2002
HHardcover, 559 pages
ISBN: 0312878885
Ordering information:
Amazon.com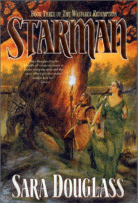 In this third entry in the six-part Wayfarer Redemption series, Axis SunSoar (the Starman) struggles to fulfill the prophecy of WolfStar, the great patriarch of the Icarii people. Axis must defeat his evil half-brother Gorgrael (the Destroyer), but his resources are depleted from previous battles. Relying heavily on the two women who love him, Faraday (his first love), and his wife Azhure, Axis has a terrible struggle ahead of him. Gorgrael has created a terrible race called the Gryphons, which unchecked could destroy the entire earth. And the magic and skills of Axis, Azhure and Faraday may not be enough to save the world that they love. And, according to the Prophecy, in order to save the Earth, Axis must ignore the pain of his beloved. But which beloved does the prophecy refer to, and will he be strong enough to turn his back on her suffering at the right time?
Starman
picks up where the first two books in this series,
The Wayfarer Redemption
and
Enchanter
, left off. In
Starman
, many questions are answered about the characters' motivations and several storylines are neatly tied up. But, luckily for Sara Douglass fans, enough loose ends remain to lay the groundwork for sequels. Douglass, a fixture on the Australian bestseller lists, is known for her exotic worlds, complex plots and characters, and an emotional depth to her characters. American audiences are just beginning to appreciate Sara Douglass and her readership is sure to grow over time.
---
Fantasy/SF Book Reviews
Page One
|
Page Two
---
Return to Book Reviews Index