Fantasy/SF Book Reviews
Page Two of Two
The Stolen Child by Keith Donohue
Nan Talese Books, May, 2006
Hardcover, 336 pages
ISBN: 0385516169
Ordering information:
Amazon.com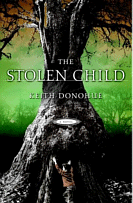 Inspired by the W. B. Yeats poem of the same name,
The Stolen Child
is a modern-day urban, adult fairy tale about fairies who substitute a changeling for a human child when the human child, Henry, unwisely decides to run away from home for the day. The fairies (who are quite old but look like human children, mostly) grab him and substitute one of their own for Henry. They change Henry's name to Aniday and baptize him in the river which will make him an ageless, wild child. But Aniday tenaciously holds on to his human memories and his love for reading and writing. In fact, he keeps a journal to help him remember his other life. The changeling Henry now has to face elementary school, a loving mother and a father who seems to know that there's something not quite right about Henry. The story is told alternately by Henry and Aniday, and eventually they meet up after many years. It's a haunting, sad and interesting story, although somewhat frustrating as no satisfactory explanation of the source of the Changelings or their magic is ever explained, as it apears that they are just as clueless about their origins as the reader. It's an impressive debut for a talented author who clearly has many more stories to tell.
---
Working For the Devil by Lilith Saintcrow
Warner Books, March, 2006
Paperback, 403 pages
ISBN: 0446616702
Ordering information:
Amazon.com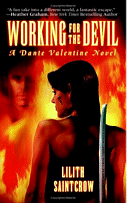 Necromance Dante Valentine -- better known as Danny to her friends -- prefers working as a freelancer than working for the city. She likes to choose her own cases, but one day Satan's minion arrives on her doorstep with an offer she won't be allowed to refuse: do a job for Lucifer and he'll graciously not kill her. Lucifer tempts Danny into taking the case; the job is to find a notorious serial killer, the same demon who murdered Danny's childhood friend. She also must return a mysterious egg that the demon Santino stole from Satan. Satan sticks Danny with a familiar -- a tall, dark and handsome demon named Tierce Japhrimel -- and burns his mark into her shoulder so that the two are stuck together during the case. Danny is furious: she likes to work alone, and now she has a giant, humorless demon following along behind her second-guessing her every move. Danny and Jaf enlist the help of Danny's friend Gabrielle (a necromance and a cop) and her husband, Eddie. The four head to Nuevo Rio to find Santino. What they find instead is a world of trouble: drug dealers, mafia, demons, everyday thugs and a deadly handsome ex-boyfriend are just a few of the nasty characters Danny will face in Nuevo Rio.
Danny Valentine is a heroine that fans of Kim Harrison, Laurell K. Hamilton and Kelley Armstrong are going to absolutely love. She raises the dead. She's an excellent investigator. She carries a sword, rides a slicboard (an airborne skateboard) for fun, mouths off to Lucifer and has a heart of gold hidden inside her leather-clad interior. Lilith Saintcrow is clearly an author to watch. New fans won't have to wait long for her next adventure:
Dean Man Rising
, which is due out in September.
---
Fantasy/SF/Horror Book Reviews
Page One
|
Page Two
---
Return to Book Reviews Index
---
More from Writers Write