Fantasy/SF Book Reviews
Page One of Two
The Great Book of Amber by Roger Zelazny
Eos, Dec., 1999.
Trade paperback, 1258 pages.
ISBN: 0380809060.
Ordering information:
Amazon.com.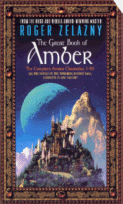 The late Roger Zelazny's ten novels of Amber, long out of print, have been collected in this omnibus, to the immense delight of his legions of fans. Amber, the One True Realm, is the real world -- all the rest of the parallel worlds (including our own Earth) are merely Shadows cast by Amber. In Amber itself, nine princes vie for the throne in the wake of the mysterious disappearance of their father King Oberon. Plots, counterplots, intrigue, magic, adventure, betrayal and sacrifice abound in the ongoing story of the struggle over the succession of the throne of Amber, and of Amber's struggle with Courts of Chaos, another realm which is eternally at war with Amber.
The first five novels chronicle the adventures of Prince Corwin who, as the first novel opens, awakens in a mental hospital on Earth -- without his memory. The second five novels focus on the adventures of Corwin's son, Merlin, a prince of Chaos. Merlin searches for his missing father and becomes drawn into more intrigue between Chaos and Amber -- against his will. This is Zelazny at his finest. His powerful imagination created a world peopled by complex, fascinating characters and with the kind of adventure which keeps you reading well into the wee hours of the morning. If you haven't made Zelazny's acquaintance, do yourself a favor and do so now. Highly recommended.
---
Cauldron of Iniquity by Anne Lesley Groell
Roc, Dec., 1999.
Paperback, 437 pages.
ISBN: 0451457714.
Ordering information:
Amazon.com.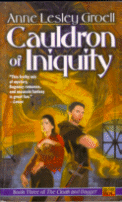 Fledgling assassins Jenifleur and Thibault (known as the Cloak and Dagger) survived their first assignment by the skin of their teeth. Their next assignment certainly sounds easy: acting as bodyguard for a wealthy client who owns a number of illusion clubs, clubs where patrons can live out almost any fantasy -- for a price. But Jen seems all too enraptured with the decadent clubs, and with their employer's right hand man: the handsome Gideon, leaving Thibault feeling exasperated and worried. As the pair draws closer to discovering the deadly secrets of the illusion clubs, the danger to both Jen and Thibault increases. Will they find out what their employer is really up to in time to save their own lives? Meanwhile, Jen's Aunt Vera, a full-fledged member of the Assassin's Guild, and her companion, the mage Absalom, are also working the same case, unbeknownst to the two rookie assassins.
This is the third book in the fantasy/romance series which features Jen, Thibault and the infamous Assassin's Guild (
See
,
Anvil of the Sun
and
Bridge of Valor
). Jen and Thibault are hip deep in intrigue, magic, illusion, romance and disillusionment, making for a fast-paced, light-hearted reading experience. Although Jen and Thibault are entertaining as leads, it is Vera and Absalom who steal every scene they are in -- especially the mysterious Absalom, who performs his magic with aplomb and can always be counted on for some witty comments. Fans of romance, fantasy and adventure will love this series.
---
Fantasy/SF Reviews
Page One | Page Two

Return to Book Reviews Index




---
More from Writers Write
---