Fantasy/SF Book Reviews
Page One of Two
Children of Chaos by Dave Duncan
Tor, June, 2006
Hardcover, June, 2006
ISBN: 0765314835
Ordering information:
Amazon.com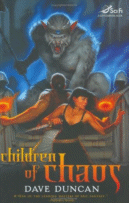 On a dodecahedral world, the walled Florengian city of Celebre finally succumbed to the invading Vigaelian forces. In order to spare the lives of the residents of the city, the Doge agreed to hand over his four children as hostages. The siblings were split up and raised very differently. Fifteen years later, the Doge is ailing and another ruler must be found. The ruler of the Vigaelians searches for the children to find who will be the best puppet ruler and to murder the other three. Bernard is an artist who is blessed by the Goddess: he can sculpt like no other and lives in the royal palace in Kosord. Orlando grew up a soldier with the warlike Vigaelians and wants nothing more than to be one of them. He is initiated into the Werist cult in which warriors gain the power to were into terrible battle beasts. Werists worship the god of storm and war. Baby Frena remembers nothing of her previous life, and was lucky enough to be raised by a wealthy merchant and the servant who spirited her away. The servant worshipped the goddess of death and Frena now has those terrifying abilities. The last child, Dantio, is supposed to be dead and no one knows his whereabouts. As the siblings find out about their past and eventually meet, the world is about to change. Dave Duncan spins a compelling tale of family, friendship, war and magic which will be finished in the next book of this duology. Duncan writes as well as Bernard sculpts: he's really that good, as is this gripping fantasy.
--Claire E. White
---
Dead Man Rising by Lilith Saintcrow
Warner Books, September, 2006
Paperback, 402 pages
ISBN: 0446616710
Ordering information:
Amazon.com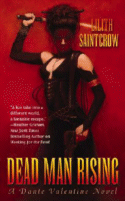 In
Working for the Devil
, readers met Dante "Danny" Valentine, bounty hunter and necromance. After her last adventure, Danny was changed irrevocably when her soul mate -- the fallen demon Japhrimel -- changed her DNA. Japh was killed at the end of that adventure, and Danny was transformed. She now has golden skin, heals quickly, has new powers and is unbelievably beautiful -- especially to humans. The changes are hard to take for Danny, who misses Japh terribly. Danny grew up in an abusive orphanage run by the Hegemony Psi Program. The government didn't know that the cruel headmaster Mirovitch raped and tortured his psychic and necromance students for years before the state found out about it and put a stop to it. Now someone is killing necromances and psychics who were students at the infamous Rigger Hall. In order for Danny to solve the case for the police, she will have to face her worst nightmares from her childhood. And to make things worse, the Devil himself keeps sending her invitations to have a chat and demanding to speak with Japh, which is especially puzzling, since it was the Devil himself who murdered Japh.
Dante Valentine is a very complicated woman: she has terrible scars from her childhood, and her current situation is enough to drive any normal human insane. But Danny is anything but normal. And no matter how scared she gets, she does what she has to do. She fights with a sword, rides a mean slic board and communicates with the dead, passing on their last wishes to loved ones and to the various authorities to settle legal issues. The action is fast-paced, and the world run by the Hegemony is an intriguing one in which humans and the psi-talented exist uneasily side by side. Danny's next adventure is
The Devil's Right Hand
which is slated for release in July, 2007. Lilith Saintcrow has a unique viewpoint, which makes her novels fresh and exciting, and very hard to put down.
---
Fantasy/SF/Horror Book Reviews
Page One |
Page Two
---
Return to Book Reviews Index
---
More from Writers Write
---