Fantasy/SF Book Reviews
Page Two of Two
A Signal Shattered by Eric Nylund
Eos, Sept., 1999.
Hardcover, 378 pages.
ISBN: 0380975149.
Ordering information:
Amazon.com.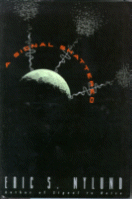 A sequel to Nylund's critically acclaimed book,
Signal to Noise
,
A Signal Shattered
picks up where the last book left off. The Earth has been destroyed by Wheeler, a vicious alien who plunders worlds for their technology then destroys them. Wheeler tricked Jack Potter into helping him, and then destroyed the Earth when Jack refused to help Wheeler engineer the annihilation of other planets. Now only Potter and a handful of his friends and associates are left alive on the Moon after using Wheeler's gateway technology to transport to the lunar base. Things look really grim on the Moon: Jack's former business associates Zero and Isabel appear to be going nuts, someone is trying to kill off the inhabitants of the moon base one by one, and Wheeler is still determined to get Jack to work for him. Jack doesn't know who to trust or how to save the lives of the last humans in the galaxy, but he's certainly not going to give up. Buried in the infamous gateway device may be just the technology the humans need to destroy the predator Wheeler, but will it also destroy what's left of humanity?
A Signal Shattered
starts slowly -- Jack wanders around the lunar base trying to figure out what to do next. Slowly and steadily, Nylund picks up the pace until suddenly the story is moving at faster than light speed, dragging the enraptured reader right along with it. With lots of virtual reality, love, betrayal, and mind-bending concepts, this is one story that will hold the attention of even the most jaded SF fan. With Nylund's name on the cover, you can be sure of an entertaining read -- and a sleepless night as you mull over all the disturbing issues his work always raises. Highly recommended.
---
L. Ron Hubbard Presents Writers of the Future, Part XV edited by Algis Budrys
Bridge Publications, Nov., 1999.
Paperback, 452 pages .
ISBN: 1573181633.
Ordering information:
Amazon.com.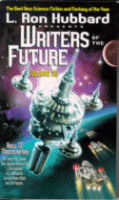 The
L. Ron Hubbard Presents Writers of The Future
is an annual collection of winning short stories from The Writers of the Future Contest. This year's edition contains original short stories about time travel, vampire baseball players, genetic engineering, alien life, murder, space exploration, clones, wizards and other appealing subject matter. The collection also includes original illustrations from the winning illustrators (Illustrators of the Future Contest). For illustrators and writers, the book also includes information about upcoming contests. There is no cost to enter any of the contests. Overall, this year's edition is an appealing collection of short stories selected by some of the biggest names (the judges) in fantasy and science fiction, including Algis Budrys, Gregory Benford, Anne McCaffrey, Larry Niven, Andre Norton, Frederik Pohl, Robert Silverberg and Kevin J. Anderson.
Writers of the Future
is a great way to introduce yourself to fresh talent in the fantasy and science fiction genres.
---
Fantasy/SF Reviews
Page One | Page Two

Return to Book Reviews Index




---
More from Writers Write
---