Fantasy Book Reviews
The Crooked House by Dave Duncan
Avon, October 2000
Paperback, 242 pages
ISBN: 0380800993
Ordering information:
Amazon.com.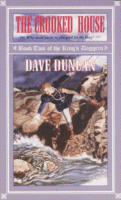 Sir Stalwart and Emerald, a White Sister who can sniff out magic, are back in this second installment of the
King's Dagger
series, the young adult series set in the same world in which Dave Duncan's popular King's Blades series is set. When King Ambrose's friend dies by mysterious causes in the middle of an elaborate royal ceremony, Sir Stalwart (known to his friends as Wart) and Sister Emerald are sent on a secret mission to find the evil which clearly has infiltrated the King's court without the knowledge of the Order of the White Sisters, whose job is to sniff out illegal magic. Emerald and Wart set off with Badger (a Blade in training) towards the ancient Smealey Hall, about which some strange rumors have been surfacing. But what they find at Smealey Hall is an ancient evil which is much more than what Sir Stalwart or Sister Emerald bargained for, and which may very well mean the end of their young lives.
The King's Daggers
series doesn't sacrifice any of the action, adventure or witty repartee which characterize the adult series set in the same world as
The King's Blades
. Emerald and Sir Stalwart are an engaging pair and Duncan does an excellent job of portraying the teens, Emerald and Wart, as well as keeping the storyline moving at a good clip. This is a wonderful series which both young adults and adults will enjoy.
---
Sky of Swords: A Tale of the King's Blades by Dave Duncan
Eos, Oct., 2000.
Hardcover, 358 pages.
ISBN: 0380974622.
Ordering information:
Amazon.com.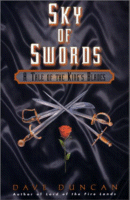 Sky of Swords
is the third book in the outstanding trilogy comprised of
The Gilded Chain
and
Lord of the Fire Lands
. All three books take place in the same world, but follow different characters in somewhat overlapping timelines. But the endings of
The Gilded Chain
and
Lord of the Fire Lands
totally contradict each other.
Sky of Swords
resolves the discrepancies, in a most intriguing way. This book focuses on King Ambrose's brilliant, headstrong and much mistreated daughter, Malinda and her sworn defenders, the Blades of Ironhall. (The comparisons to Henry the VIII and Elizabeth I are inescapable). This is truly Malinda's story, and it is a fascinating one, indeed. Malinda is a complex and endearing character, who undergoes treachery, betrayal, adventure and even a trial for murder and treason of her own father, while attempting to avoid marriage to the Lord of the Fire Lands, Raedgar and preserving the throne for her sickly half brother, little Amby.
Malinda's story is full of action, adventure, court intrigue and -- somewhat unusually for Duncan -- quite a bit of steamy passion, which Duncan handles extremely well. Malinda's devoted Blades, especially the loyal Sir Dog and Sir Audley, are all marvelously portrayed. But surely this isn't the end of
The King's Blade
s series. With any luck, Duncan will be writing new installments in the land of Chivial for years to come -- and readers are sure to be lining up to buy them.
--Claire E. White
---
Star Trek: Paper Universe by Andrew Pang
Pocket Books, September, 2000.
Trade Paperback, 195 pages.
ISBN: 0671042157.
Ordering information:
Amazon.com.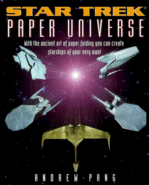 Andrew Pang brings the ancient art of origami (paper folding) to the
Star Trek
universe with fascinating results. The book includes instruction for the basic folds of origami, and the basic directions which you'll need to follow the diagrams. The book contains step by step instructions for creating Federation, Klingon and other alien craft, such as the Enterprise-E, a Borg cube, a Klingon battlecruiser, a Cardassian warship, Deep Space Nine space station and many more. Ten sheets of origami paper are included with the book as a bonus, but to really get the benefit from this book, you should purchase your own supply of origami paper to practice on first. The book is really intended for those that already have some experience with origami, so if you're a totally beginner you should start with the easier folds such as the Borg Cube before you attempt something as complicated as the U.S.S. Voyager or the Enterprise E. This unique and creative book is a must-have for origami devotees and
Star Trek
fans alike, and is sure to provide hours of enjoyment and entertainment.
---
Return to Book Reviews Index
---
More from Writers Write