Eternal Love by Alice Alfonsi Review
Jove, Jan., 1998.
Paperback, 336 pages.
ISBN: 0515122076.
Ordering information:
Amazon.com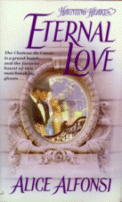 In Newport, Rhode Island the past is always center stage; the mansions of the Gilded Age stand as a reminder to the carefree days when the millionaires threw Jay Gatsby-like parties till dawn. One legend which has never died is that of private eyes Dan and Daisy Doyle who were known as much for their grand passion for each other as their legendary sleuthing. As ghosts, Dan and Daisy have dedicated the rest of their afterlives to helping lost souls find their own true loves. Their latest case Hannah Peabody -- better known to her TV fans as Homemaking Hannah -- needs all the help she can get. Broken-hearted after the collapse of her marriage, she's become a miserable workaholic with no time for love. When she arrives at her beautiful old home (which is now a posh resort) for her little sister's wedding Hannah wants only to run away after seeing the only man she ever loved but who ditched her years ago. But with Dan and Daisy on the case even the reluctant Hannah can come to see that true love is just around the corner.
Alice Alfonsi has created a charming pair of ghostly matchmakers with Dan and Daisy Doyle. Against the backdrop of the beautiful resort Chateau de Cour, modeled after the famous Rosecliff estate with its famed heart shaped stairway, the story of the once-wealthy Hannah who has one more chance at a happy ending unfolds in a spellbinding manner. With believable, lively characters and a truly charming storytelling style,
Eternal Love
is a must read for those who like a few ghostly touches along with their passion.
---
More from Writers Write