Star Wars: The Essential Guide to Droids Review
by Editor
Author: Daniel Wallace, Illustrations by Bill Hughes
Del Rey, March 1999.
Trade Paperback, 206 pages.
ISBN: 0345420675.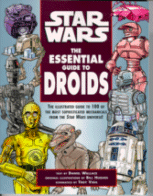 The book provides in-depth details on one of the most appealing aspects of Star Wars for young fans -- the droids. The comprehensive reference provides information on all of the Star Wars droids with artwork and detailed descriptions which include information about each droid's abilities, design, use and manufacturer. Numerous Star Wars robots are included which serve a variety of purposes including: protocol, medical, household services, commercial, military, business, assassins, espionage and security. Over 100 droids are listed including the well-known R2 and CP30. Information about the manufacturing companies of droids is also included.
This is a wonderful collection of all the droids from the Star Wars Universe including books and films. Diehard young fans of Stars Wars will enjoy this detailed reference.
Ordering information: Amazon.com.
---
More from Writers Write