End of Days by Dennis Danvers Review
End of Days
by Dennis Danvers
Eos, June 1999.
Hardcover, 372 pages.
ISBN: 0380974487.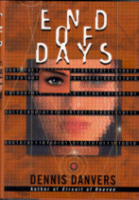 For over 70 years religious zealots have believed that they destroyed the "Bin" a virtual reality paradise which contains most of the world's population, who decided to leave earth behind and upload themselves into the virtual Eden. But the Bin still exists and Gabriel, the fanatical leader of the Army of the Lord is determined to destroy it and the billions of souls inside with nuclear weapons. The founder of the Bin has his own ideas, though; he intends to make several copies of the Bin and send it off to various star systems to avoid the destruction of what's left of the human race. Sam, a young soldier in the Army of the Lord is not at all sure that destroying the Bin and humankind is the right thing to do -- especially now that he's fallen in love with a beautiful genetically engineered Construct named Laura. Sam and Laura join forces with the creator of the Bin to try to avert a disaster for the human race and stop the evil Gabriel.
End of Days is the sequel to Circuit of Heaven, a brilliant work of SF which introduced readers to the Bin. The only flaw in the work is the excessive number of subplots which threaten to overwhelm the storyline. However, the world evoked by Dennis Danvers is compelling, as are the issues he raises about death, spirituality and the nature of existence. The plot is fast-paced and the characters are complex and intriguing. As with all of Danvers' books, this one will have you thinking about it long after you finish reading.
Ordering information: Amazon.com.
---
More from Writers Write