Enchantment by Orson Scott Card Review
Del Ray, April 1999.
Hardcover, 387 pages.
ISBN: 0345416872.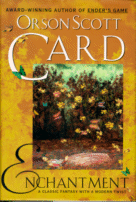 Growing up in the Communist-controlled U.S.S.R. of 1975 was hard for Ivan and his family. His father eventually gets them out of the country to America, where his father resumes his career as an academic. But Ivan is haunted by something that happened to him in the Carpathian forest just before they left. He stumbled onto a strange clearing with a beautiful maiden asleep on a bier. Chased away by her fearsome guardian, Ivan grows up not really knowing if the incident was real or just a dream. Years later, when he is back in the former USSR working on a thesis, he decides to go back to the clearing to see once and for all if there really was a sleeping beauty in the forest. He finds the clearing, and the beautiful young woman is still there -- apparently enchanted. He breaks the spell and finds himself in medieval Russia with a princess he must marry immediately. Of course, he must also do battle with an evil witch and adapt to life in that time period -- neither of which are easy tasks. When he is forced to bring his princess back to the twentieth century, things get considerably more complicated -- apparently the old villains are quite capable of adapting to life in 1999, and Ivan must fight an ancient evil and solve a riddle in order to save his family and live happily ever after.
Orson Scott Card, the award-winning author of the classic Ender's Game, has taken the Russian version of the fairy tale of Sleeping Beauty and set it in modern times -- with excellent results. Full of adventure, humor, family themes and magic, the story works well on several levels. Card's sense of humor is subtle and engaging, and his ability to create a compelling story from the most familiar material is legendary. Both Ivan and Katerina are especially well-developed and interesting characters, as is Ivan's mother who is no slouch herself at practicing magic. Another winner from the prolific Card. Highly recommended.
--Claire E. White
Ordering information: Amazon.com.
---
More from Writers Write