Dust by Charles Pellegrino Review
by Editor
Dust by Charles Pellegrino
Avon, Mar., 1998.
Hardcover, 359 pages.
ISBN: 0380973081.
Ordering information:
Amazon.com.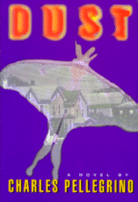 Imagine all the insects are gone. Sound peaceful? No cockroaches. No mosquito bites. No ants at your picnic lunch.
Dust
, a novel by scientist and underwater archeaologist Dr. Charles Pellegrino, shows us what life would be like in an insect-free world that arises out of an anomaly of nature -- and it is hardly a blissful or peaceful world. Swarms of millions of mites, called motes, have emerged on the Atlantic coast and are devouring every living thing in their path, including humans, down to the bone, and this is just the start of the problem. Because the insects have disappeared, the shock to the Earth's food chain is immense; animals are starving and diseases are spreading. The effect on the human race is catastrophic and Pellegrino graphically illustrates the effects upon life on the planet Earth as a whole as well as through the lives of individuals. The main characters in the book are realistic: paleobiologist Richard Sinclair who struggles to find a solution to the apocalypse and Jerry Sigmond who becomes a Hitleresque leader of a revolutionary group that attempts to take control during the turmoil.
Dust
is an action-packed adventure full of chaos, scientific thought and discovery with death and destruction on an Armageddon-like scale. An exciting scientific thriller that places Pelligrino on the same plateau in this genre as Michael Crichton and Richard Preston.