Downsized to Death by Joyce Christmas Review
Fawcett Books, November, 1997.
ISBN: 0449148025
Mass Market Paperback.
Amazon.com.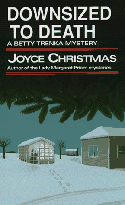 The news in quiet East Moulton is not good. Frail Mr. Takahashi is found murdered in his greenhouse filled with rare orchids and Betty Trenka's former boss, Sid Senior, has had a stroke. The ever-scheming Sid Junior calls upon Betty to clear out his father's old office files: a job she accepts immediately. But an inordinate number of people seem very interested in what might be hidden in the office files, Betty is sure her every move is being followed and the rest of Sid Senior's family seems unwilling to let Betty be alone with her former boss for any length of time. As Betty struggles to come to terms with her relationship with Sid Senior and his illness and to discover the secret of the missing files more bodies turn up and suspects lurk around every corner. Will Betty find the secret of the files before her unknown adversary silences her forever? Is there more to Betty's relationship with Sid Senior than meets the eye? You'll have to read this entertaining new mystery from Joyce Christmas to find out.
Joyce Christmas has created a lovable sleuth in 60-something retired office manager Betty Trenka who, along with Sid Senior, was unwillingly put out to pasture to make way for the younger generation. This is the third book featuring Betty Trenka following
This Business is Murder
and
Death at Face Value
, and is the best yet in this wonderful series. The characters are well-drawn and we get more insight into Betty's past life and why she never married. Christmas has a witty, warm style that is unique, compelling and extremely entertaining. Once you've read one of her books you'll want to read all of the others, including those in her other series starring aristocratic sleuth Lady Margaret Priam.
---
More from Writers Write
---