Domain by Steve Alten Review
by Editor
Tor, June, 2002
Paperback, 512 pages
ISBN: 0812579569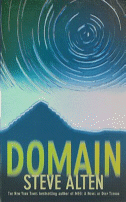 Mick Gabriel is the only one who knows the secrets of a doomsday prophecy that predicts the end of the world. Unfortunately, he is locked up in a Miami psychiatric asylum as a paranoid schizophrenic. His knowledge about the doomsday forecast was gathered by him and his archaeologist father as they researched the ancient Mayan calendar, which forecasts that the end will come on December 12, 2012. Needing to escape, Mick tries to convince psychiatry major Dominique Vasquez to help him. Dominique was just assigned to Mick's case, as she completes her graduate internship. Mick manages to get Dominique's help... but the forces leading up to man's destruction may already be underway.
Steve Alten, the author of MEG and Goliath, has created a gripping science fiction thriller. Domain is laced with strange facts about ancient cultures, edge-of-your seat suspense and a cast of appealing characters that ranges from commoners to world leaders. One of the most fascinating elements of Domain is how Alten manages to pull in numerous unsolved mysteries about ancient civilizations, such as the elongated skulls of the Olmecs, the amazing pyramids, the desert drawings of Nazca, unexplained advanced astronomy skills in ancient cultures, wise bearded men mentioned in ancient texts and other facts into the novel and uses them to enhance the plot.
Those fascinated with ancient cultures, aliens, conspiracy theories and the paranormal should definitely grab a copy of Domain. Domain is the first of a trilogy, the second of which is Resurrection -- a novel readers will certainly be looking forward to after reading Domain.
Ordering information: Amazon.com
---
More from Writers Write
---