Diva: Unleash Your Feminine Power Review
Diva: Unleash Your Feminine Power
by Terri Walsh
Berkley, Feb., 1998.
Trade Paperback, 210 pages.
ISBN: 0425161587.
Ordering information:
Amazon.com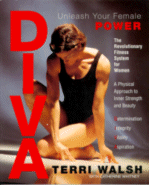 New York fitness trainer to the wealthy and famous Terri Walsh brings her innovative new fitness program to the public in her new book:
Diva: Unleash Your Female Power
. A survivor of both physical and sexual abuse she suffered when she was a child, Walsh drifted in her life until she found exercise and fitness as a way to rebuild both her inner and outer strength which allowed her to face the world with confidence.
DIVA is an acronym for Determination, Integrity, Vitality and Aspiration, the four qualities Walsh believes are crucial to changing a woman's life. The program is an integrated one, teaching women a holistic method for total fitness, rather than just concentrating on one area of exercise such as aerobics. Weight training, toning, stretching, aerobics, anaerobics and diet are all elements of the easy to follow plan. Walsh obviously believes in her message that fitness can empower women -- she is living proof of it -- and the book is sprinkled with inspirational soundbites from satisfied clients.
DIVA
is a safe, inspirational program which is easy to learn and to schedule into a busy lifestyle. With DIVA tips, exercises targeted toward each module of the program and a DIVA journal to allow participants to record their goals and progress, DIVA is a great way to learn the secrets of a top personal trainer for under $14.00 -- and you don't even have to leave your home.
---
More from Writers Write
---