Diana: In Her Own Words by Andrew Morton Review
Simon & Schuster., October, 1997.
256 pages. ISBN: 068485080X
Hardcover.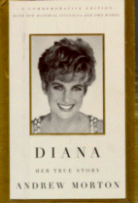 When the original version of Diana: Her True Story was published in 1992, it shocked the world with its portrayal of the sadness and despair of the life of one of the most-admired women of the world. Its descriptions of Diana's heartbreak at her husband's infidelities with his long-time mistress Camilla Parker-Bowles, her battle with bulimia, her isolation inside the palace walls, and her suicide attempts contrasted vividly with the picture the world had of her: a happy fairy tale princess who had managed to have it all.
The book scandalized the Royal family with its never before seen photos of Diana and its shockingly intimate and knowledgeable information. After Diana's tragic death, Andrew Morton revealed another shocking bit of information; Diana herself had been the source for the book and had tape recorded hours of answers to Morton's probing interview questions.
This revised edition of the book contains excerpts from the transcripts of those tapes as well as an additional chapter detailing the last months of Diana's life and the worldwide reaction to the tragic death of The People's Princess. On the tapes, the Princess discusses many subjects including her childhood, her marriage, her children and her talent for presenting a cheerful face to the public when she was actually close to despair. "I've got what my mother's got. However bloody you're feeling you can put on the most amazing show of happiness. My mother is an expert at that. I've picked it up, kept the wolves from the door..."
A compelling and intimate look at one of the most beloved figures of our time, the commemorative edition of Morton's book is excellently written and truly unforgettable. A portion of the proceeds of the sale of the book will be donated to the Diana, Princess of Wales Memorial Fund.
Ordering information:
Amazon.com
---
More from Writers Write