Devil's Rim by Sam Brown Review
Walker & Co., March, 1998.
Paperback, 224 pages.
ISBN: 0802741614.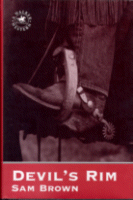 Concho Smith is riding towards Mexico, when he stops to assist a ranchwoman, Judith Van, in Devil's Rim. In return, Concho is given use of the barn for the night and at daybreak finds himself with plenty of work available for him to do, including branding cattle and mending gates. Judith's husband, Sid, has been crippled recently in an accident earlier and has become a bitter drunk incapable of regular chores and keeping his cattle from wandering into the large acres of land owned by his neighbor, Bob Shiner. Concho soon finds out the hard way that there is more than a simple land dispute between the neighboring Shiners and the crippled Sid Van. He also finds himself falling for Sid's wife Judith, which makes him feel terribly guilty. Concho finds himself in a struggle to do what is right in the face of temptation, maintain his good name proud and prove that he is more than just the typical lazy drifter passing through town.
Devils' Rim is a great western full of fights, cattle ranching, romance and even a little mystery. A quick and light adventure that western fans will love.
Ordering information: Amazon.com.