Computer Book Reviews
Designing with Style Sheets, Tables, and Frames
, by Molly. E. Holzschalg, Edited by Laura Lemay Sams.net, 1997.
607 pages, ISBN 1575212498
Trade paperback
Ordering information:
Amazon.com.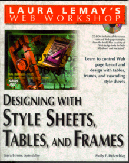 Designing with Style Sheets, Tables, and Frames
is a great teaching tool for intermediate designers and a solid reference for HTML coding gurus. Author Molly E. Holzschlag and series Editor Laura Lemay have done an excellent job of making the difficult task of using complex HTML coding in your designs easier to comprehend. The designer will quickly learn from the easy to follow text and examples which include methods, source code and pictures, as well as HTML examples on the accompanying CD-ROM. This book can help you with more complicated webpage layouts, such as those involving several columns with different fonts and syles in each column. The book is also an excellent reference for web designers who need to get up to speed on frames quickly for an upcoming project. The book also includes the subject of borderless frames.
Style Sheets
includes some interesting tips on incorporating other web languages, such as dynamic HTML using server-side includes.
Molly Holzschlag does an excellent job of explaining the difference in the results of your hours of coding on the two main browers, Internet Explorer and Netscape and includes coding that will work with both browers where possible. This is an invaluable tool for those interested in creating a variety of looks for their websites. The CD-ROM also includes a variety of graphics tools, HTML editors and a collection of web graphics. Experienced web designers will find this to be a great reference book to jog their memory on those arcane points of web design.
---
More from Writers Write