Delirium by Douglas Cooper Review
Hyperion, Feb., 1998.
Hardcover, 256 pages.
ISBN: 0786863412.
Ordering information:
Amazon.com.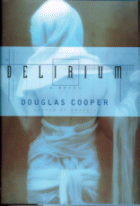 Ariel Price, world-renowned architect whose lasting legacy will be the dark, glass, impossibly tall International Style buildings with which he has infested the world's major cities, is enjoying his retirement, basking in the glow of his impending canonization into the architectural sainthood when a fax appears. A brash young biographer informs him that he has discovered the darkest secrets of Price's life and will reveal them to the world in his new unauthorized biography of the architect. Given the number and depth of the ghastly secrets that lie in Price's past, the decision is clear. The biographer must die and Price must carry out the murder.
As the story unfolds through multiple viewpoints, the characters who are inextricably intertwined with Price's life appear: Bethany, the ill-fated runaway who spurns Price's advances for those of Price's brilliant but deformed assistant; Scilla, the exotic performance artist who inhabits one of Price's creations, an underground mall; and Theseus Crouch, the man who would destroy Price's greatest creation -- his reputation.
Slyly amusing, horrifying, moving and memorable, Delirium , the follow-up to Cooper's first novel -- the critically acclaimed Amnesia -- is a study of themes across time: greed, prostitution (in all its forms), the endless nature of choice, the origins of modern architecture, redemption and death. Douglas Cooper explores his themes through the eyes of many characters who seem to be living parallel lives.
A former architecture student himself, Cooper's running commentary on the state of modern architecture is wickedly amusing and the narration, while somtimes abstruse, is fiercely compelling. A morality play which raises disturbing questions about the nature of greed, evil and even of modern architecture, Delirium is a spellbinding and shocking tale you won't soon forget.
--Claire E. White
---
More from Writers Write
---