Dead Men Don't Dance by Margaret Chittenden Review
Kensington, 1997.
281 pp. ISBN: 1575661845
Hardcover.
Ordering information:
Amazon.com.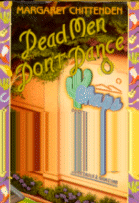 Part-time saloon owner and sometime amateur sleuth Charlie Plato is hoping for a little peace and quiet after digging up a corpse last year outside CHAPS, the country and western bar she owns along with sexy ex-TV cowboy Zack Hunter and two other partners, but it is not to be. Zack is running for City Council and Charlie is his campaign manager. When Zack's opponent turns up strangled in Zack's trunk, the police fasten on Zack as the most likely suspect. Naturally, Charlie has to find out who the real murderer is. Hampered by Zack's secrecy about his past, Charlie nevertheless plunges into the investigation of who might be trying to frame Zack, all the while trying to evade the embrace of her irresistible, womanizing partner. Charlie's had enough of philandering men from her disastrous first marriage and is determined not to make the same mistake twice. Still, Zack is charming and so attractive, even if he is wanted for murder!
Dead Men Don't Dance is the second entry in Margaret Chittenden's captivating mystery series starring Charlie Plato and the irrepressible Zack Hunter. The world as seen through the eyes of the strong-willed Charlie is always amusing, especially when she is describing the sometimes pretentious characters she meets in the course of her investigation. Zack's troubled past is exposed in this story, which adds depth and character to his personality. The pacing is lively, the mystery is intriguing and the characters are people you'd like to get to know. If you haven't yet made the acquaintance of Charlie, Zack and all the gang down at CHAPS, you're in for a wonderful surprise. So grab your boots and hat and head down to CHAPS -- you'll be glad you did.
--Claire White
---
More from Writers Write
---