Dead In The Water by Stuart Woods Review
HarperCollins, Aug., 1997.
Hardcover, 336 pages.
ISBN: 0060183683.
Ordering information:
Amazon.com.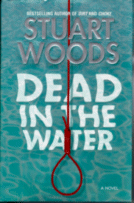 Stone Barrington arrived on the island of St. Marks looking forward to a relaxing week cruising the Caribbean aboard a chartered sailboat with his girlfriend, Arrington. Stone left New York for St. Marks the day before a blizzard hit, but Arrington was stranded when she stayed an extra day to interview Vance Alder, a handsome movie star and an old boyfriend, for her employer. While waiting for the storm to break in New York, Stone becomes immersed in a legal maelstrom on St. Marks. Shortly after he arrived, Stone saw a beautiful woman sail her storm-battered yacht into the harbor. After a routine inspection by the island's customs officials, Stone saw the police arrest her. Intrigued, Stone asks about the circumstances of the woman's arrest and learns that her husband died while crossing the Atlantic, and that she disposed of the body at sea. While waiting for Arrington's arrival, Stone attends the Coroner's Inquest and hears the heartrending tale of how the woman, Allison Manning, witnessed her husband's fatal heart attack while she was at the top of the boat's mast repairing the rigging, how she heroically made it back to the deck, buried her husband at sea and then sailed the boat single-handed to the nearest port.
The St. Marks Minister of Justice sees this case as a stepping stone to the Prime Minister's post, and he prosecutes Allison for the murder of her husband, a famous and wealthy novelist who was covered by a $12 million insurance policy. When Stone learns that the St. Marks' system of justice is designed to send the defendant straight to the gallows, he launches an aggressive defense and public relations campaing to win Allison's freedom. As the personal relationship between attorney and client heats us, Stone has difficulty acting on her behalf, especially as his suspicions about her innocence become as aroused as his libido.
Stuart Woods
' latest novel is a brief trip to the Islands that is sure to delight. He once again proves he is a master of his craft. His amusing, simple character descriptions and straightforward but intriguing plot bring the story to life. With tropical drinks to cool the characters from the sultry climate, political intrigue and a passionate affair, Woods creates a story of which most readers should enjoy being a part and which would make an interesting film.
Dead in the Water
is just the ticket to shake those winter blues.
--Doug Jacobson
---
More from Writers Write