Danger and Opportunity -- The Birth of Regina Cutter
by Cecelia Tishy
Reggie (Regina) Cutter, the lead character and driving force of
Now You See Her
(Mysterious Press), was born—or hatched—from two ads targeting well-to-do, midforties U.S. women.
Promoting Cadillac cars and Morgan Stanley Bank, the ads preyed on women's fears that: 1) midlife husbands abandon their partners for luscious young trophies and 2) that the ex-wives can't possibly enjoy independent lives. ("Where are you going? How will you get there?" intoned a voiceover in the bank ad, while on TV, "his new love" turned out to be a Cadillac Coupe DeVille!)
These women stuck in my mind. No, I didn't race to an auto showroom floor nor make appointments with the estate planner. On the contrary, my thoughts filled with the "alternative" story of a woman like those in the two ad images.
Suppose that she was left in the Caddie exhaust, so to speak, without a trust fund with multiple zeroes galloping to the horizon? Suppose that a physically fit, attractive mother and twenty-five year veteran of life as a corporate executive's wife found herself suddenly single and minus the percs she'd long enjoyed as her hubby climbed his career stairway toward CEO heaven? The luxurious house, the pool, household help, walk-ins, first-class travel, a royal flush of credit cards, etc. . . . what if it all disappeared and the divorce settlement stocks tanked? (And the stock market was at this time actually falling in the Enron-era scandals.) What then?
A whole new life.
Enter Regina Cutter, Reggie, the former Mrs. Martin Baynes, mother of two grown children whom she adores but who treat her—as adult children sometimes do—with whiffs of condescension. Where will she live now? Answer: Boston, the city where I myself made my home for nearly twenty years as wife and mother of two daughters. Suppose my character's beloved late aunt (based on my own Great-Aunt Josephine (Jo)) has willed Reggie a townhouse condo in the historic South End, with one upstairs rental flat for modest monthly income. Suppose that she gets undreamed-of thrills in the risks and near-misses of helping the Boston homicide detectives solve crimes? Suppose, in short, that Reggie is materially downsized, but enormously upsized in quality of life!
But what link to the police? I'd seen psychic Sylvia Browne several times on TV and read her books and become interested in the sixth sense (and had experienced, as so many of us have, phenomena not subject to rational explanation). Suppose that Reggie should find in herself the psychic abilities she'd long suppressed. As Sylvia tells us, psychic ability often runs in families. So I imagined Reggie's aunt a former psychic for the police, and Reggie her successor. Reggie's sidekick, an ex-Marine, is based on a student I taught in Boston, a tough vet who'd come back to college from active duty. And although serious dander allergies of my husband, Bill, and our daughters prevented us from having a family dog, Reggie can have Biscuit, the beagle of my dreams.
Copyright © 2005 Cecelia Tishy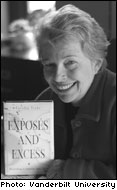 **Cecelia Tishy is the William R. Kenan, Jr., Professor of American Literature at Vanderbilt University in Nashville, Tennessee, where she has won the university's prize for excellence in teaching.

She is the author of several nonfiction books and articles, as well as the popular Kate Banning and Regina Cutter mystery series. Her latest mystery novel is Now You See Her (Mysterious Press).
---
More from Writers Write