Computer Book Reviews
Page One of Two
CG101: A Computer Graphics Industry Reference by Terrence Masson
New Riders, August 1999.
Trade Paperback, 500 pages.
ISBN: 073570046X
Ordering information:
Amazon.com.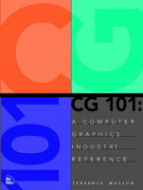 This book acts as an encyclopedia, dictionary and reference about computer graphics and the computer graphics industry, which can give graphic designers and webmasters an upper hand when dealing with graphics and design concepts. This in-depth reference is divided into several main computer graphic topics, including color and light, painting and graphic design, modeling, animation, compositing and input and output. Each of these sections provides information about leading professionals and companies, interviews with industry leaders, web links, computer graphics job descriptions and tips and tricks. Also provided in the book are time lines, company profiles, frequently asked questions about computer graphics, job descriptions and definitions of computer graphic terms.
CG101
is a reference that is jam-packed with useful information; it should be on the bookshelf of anyone involved in the computer graphics industry. In addition, anyone considering a career in computer graphics should find the extensive information about computer graphics companies and interviews with professionals very informative.
---
How to Use Digital Video by Dave Johnson
SAMS, July 2000.
Trade Paperback, 245 pages.
ISBN: 0672319233
Ordering information:
Amazon.com.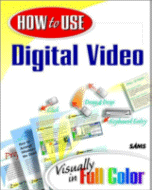 Knowledge of digital video and video editing are skills that will become highly valued as we enter days where high bandwidth is commonplace, rather than a rarity. Editing video on the computer used to be very expensive and complex but with digital video, more powerful and cheaper home computers and special software programs people can now edit movies on their home computers that is similar to what is done in movie and television studios. This guide introducers readers to digital video and shows them how to incorporate it into their websites. It also gives advice on video editing, adding audio and music, polishing and adding special effects. Full-color photographs and step-by-step procedures help make it easy for readers to understand the different methods. For example, one section in the book provides photographs with detailed captions which tell readers how to add titles to their video in several steps. Other step-by-step photo guides show readers how to add a watermark, how to use motion blur, how to capture narration, how to reduce camera shake, how to rearrange scenes and how to color correct a scene. Instruction also covers working with camcorders, storyboarding, preparing your PC for video, editing your movie, working with titles, adding credits, working with audio, using still images, producing videotape, publishing video to the Web and creating PowerPoint slide shows. The accompanying CD-Rom includes third-party video editing software for Windows and Macintosh.
Author Dave Johnson, a technology writer who writes for computer magazines and has published books on digital photography, has done an excellent job of explaining video editing and production concepts and techniques to readers. The vivid photographs help make the instruction crystal clear for amateur photographs at home.
How to Use Digital Video
is an excellent visual reference for beginners who are eager to get started with digital photography.
---
Computer Reviews
Page One |
Page Two
Return to Book Reviews Index
---
More from Writers Write