Children's Book Reviews
Page Two of Two
I Lost My Bear by Jules Feiffer
Morrow Junior Books, August 2000.
Picture Book, 40 pages
Ages Baby-Preschool
ISBN: 0439136563.
Ordering information:
Amazon.com.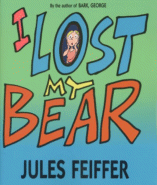 The qualities that endear certain writers and cartoonists to us is their genius at portraying us to ourselves, and gently showing us the way out of our own self-created dilemmas. A book by Jules Feiffer attains that rarely achieved phenomenon: a book enjoyed as much by adults as by children. Mr. Feiffer's knowledge of human personality is so accurate that this book can be read on several levels.
On the simplest level of this story is a child who has experienced that most common of human dilemmas: the loss of a beloved object. The little girl who has lost her beloved toy bear first asks her mother where it might be. The mother delivers a sensible suggestion of looking where she was last playing with the lost object. The following page shows her looking in her room, which is predictably untidy. She looks underneath her bed, which is in an even worse state of dereliction. Next she tries the family book case, which is overwhelmingly stocked with an enormous amount of books. She then immediately creates an enormous mess in the middle of the room. Dad gives an unhelpful and largely judgmental statement, but no real help. Older sister is involved in her own teenage world and is equally unhelpful. There is nothing left to do but cry, but this brings no real aid. We then see a drawing colored in a dark charcoal wash which vividly shows all the grief that the loss of a favorite object can bring. Finally, big sister relents, and offers an unselfish, although odd, suggestion that actually works. Peace and happiness at bedtime finally reign as the little girl and her beloved stuffed bear are reunited.
I Lost My Bear
definitely will have a favorite place in any child's library, because it will be sorely needed from time to time. The method of finding the lost object may be somewhat random, but the story and drawings by Jules Feiffer will never cease to delight.
--Sarah Ann Reaves
---
Penelope Jane, A Fairy's Tale (with CD) by Rosanne Cash, Illustrated by G. Brian Karas
Joanna Cotler Books, May 2000.
Picture Book, 32 pages
Ages 4-8
ISBN: 006027543X.
Ordering information:
Amazon.com.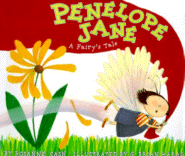 Penelope Jane de la Fesser is just about the most wonderful friend a five year-old girl could possibly have. That is because Penelope is a tiny French fairy, only as tall as an eyelash, who lives in the top right-hand dresser drawer of Carrie's dresser.
One day Penelope Jane begs Carrie to take her along to school. After a brief argument and many promises by the fairy to behave, Carrie gives in. However, as anyone might imagine, a fairy has no business in a schoolroom, and in no time Penelope Jane has completely disrupted the school day. In frustration, the teacher banishes her to a corner while the children went to lunch. Unfortunately, a magnifying glass that was placed in too sunny a corner beamed an errant ray into a wastebasket full of paper. Fire in the school! Now the fairy must do the impossible -- turn in a fire alarm. How she accomplishes the seemingly impossible task is the real theme of the story, and the point is made with humor that a child is sure to enjoy.
G. Brian Karas's illustrations feature deft brush strokes and charming detail which move the story along in a lighthearted way. In the pictures featuring the theme of the story (which is how to be strong) the reader sees the fairy watching over Carrie, who is drifting off to sleep while wearing the smile that a happy day produces.
Written in rhymed couplets with a lively beat, this charming story by Grammy award-winning singer/songwriter Rosanne Cash will fire the imagination of any child. Accompanying the book is a CD tucked inside the back cover, which features the song, "How to be Strong." This little song of courage is bound to help a child out in many situations. An altogether happy and imaginative book, Penelope Jane, is sure to please and encourage any child.
--Sarah Ann Reaves
---
What to Expect When the Babysitter Comes by Heidi Murkoff, Illustrated by Laura Rader
Harper Festival, May 2000.
Picture Book, 32 pages
Ages 2-5
ISBN: 0694013234.
Ordering information:
Amazon.com.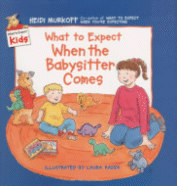 Separation anxiety is one of a young child's strongest and most terrifying emotions. For the young and very dependent child separation from the care giver would be the ultimate disaster, so Nature has instilled a strong instinct in the very young to avoid it at all costs. Harper Festival has now brought us a well executed and utterly charming book by Heidi Mufkoff called
What to Expect When the Babysitter Comes
.
Co-author of the popular pregnancy guide
What to Expect When You're Expecting
, Heidi Murkoff, makes this usually stressful situation manageable by anticipating all of the child's questions. She begins with a preface for the parents in which she gives helpful suggestions on role playing, making lists with the child of favorite things and, most importantly, how to leave.
The guide throughout this cheerful, upbeat book is Angus, whom illustrator Laura Rader has drawn as a large, friendly and furry dog of undocumented ancestry. Large, furry, kind creatures are especially comforting to have around, especially if you are an upset child. At the bottom of each page is a game or activity with Angus's paw print on it like a stamp of approval. Ms. Rader has kept the drawings simple, but happy, using many primary colors and whimsical cartoon-like drawings. Happily, cultural diversity and both genders are shown on almost all pages, making this a book for all families.
All possible queries from a child become chapter titles. Questions such as "Why can't I just go with Mommy and Daddy?" and "What if I get hungry when the babysitter comes?" are wisely and logically answered from the child's point of view. The answers are reassuring, and the activity from Angus will cause you to strongly recommend the book to the babysitter, as well.
--Sarah Ann Reaves
---
Children's Book Reviews
Page One | Page Two

Return to Book Reviews Index





---
More from Writers Write