Children's Book Reviews
Page One of Two
Conrad's Fate (Chrestomanci Books) by Diana Wynne Jones
Eos, May, 2006
Paperback, 400 pages
ISBN: 0060747455
Ages 9 and up
Ordering information:
Amazon.com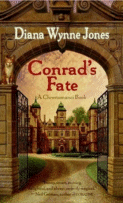 The always-inventive Diana Wynne Jones returns to the world of the Chrestomanci in this fifth volume. In one of the many parallel worlds in our universe, England is ruled by a monarchy. The culture is similar to that of Earth during the 1920s, with a twist: magic is accepted and considered quite normal. Twelve year-old Conrad lives in the town of Stallchester, which sits at the foot of the Alps where the Stallery Mansion is home to the local nobility. Conrad has been warned by his Uncle Alfred that he has a terrible Fate, which Conrad would very much like to escape. At his uncle's behest, Conrad manages to land a job at the Stallery Mansion as an apprentice servant, which is a much-coveted position. Conrad meets up with the irrepressible Christopher Chant -- who is from another world entirely. Christopher is not the least interested in being a servant, but he is extremely interested in finding his missing friend, Millie. There are rumors that someone is playing around with reality in the Castle, and the visible shifts of reality and time are starting to become more frequent -- and more jarring. Christopher and Conrad must find Millie, find out what is really going on at the Mansion and stop the strange disturbances in order to save Conrad from his terrible Fate.
Watching Christopher Chant as a boy is worth the price of admission in this hilarious entry into the Chrestomanci series. Written in the style of P.G. Wodehouse, Diana Wynne Jones shows that she can write farce with the best of them. The antics and schemes of the nobility contrast nicely with the training of the new servants who must be as still as pieces of furniture, as invisible as possible and never -- never -- laugh or react to any thing the nobility says or does. Although he is not the hero, Christopher Chant -- as usual -- manages to neatly steal every scene he is in with his larger than life, vastly entertaining personality.
---
Darkhenge by Catherine Fisher
Eos, March, 2006
Hardcover, 336 pages
ISBN: 0060785829
Ages 12 and up
Ordering information:
Amazon.com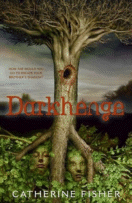 Catherine Fisher is known for her imaginative and lyrical style of young adult books. Her latest stand-alone book draws from the ancient Celtic myth of Ceridwen and Taliesin; readers who know the story (or make the effort to look it up on Google) before reading this novel will get an extra layer of enjoyment from this slow-moving -- yet compelling -- story. In England, young artist Rob and his parents are devastated both emotionally and financially by his sister Chloe's horse back riding accident which has left her unresponsive in a deep coma. To keep himself busy, Rob gets a job as a sketch artist at a top secret local archeological dig which is run by an ambitious archeologist who will stop at nothing to make sure she reaps the glory for her discovery of an ancient henge. Rob meets a mysterious group of hippies who tell him that the henge conceals a much greater secret: a doorway to another world. The dig eventually reveals a giant tree, growing upside down in the soil. Rob enters the world of Anwyn, where his sister's spirit is slowly dying in a prison of her own making. Rob discovers that his sister absolutely despises him for what she considers preferential treatment from his parents. As the modern-day counterparts of Taliesin and Ceridwen act out their destinies, Chloe's life hangs in the balance, with Rob's determination being the only hope for the dying girl.
Darkhenge
is an atmospheric, dark and moody tale that unfolds at a leisurely pace. With full characterizations and multiple layers of myth and magic, this is a story that beguiles the reader as he is taken on a journey into a dark and fantastic dreamscape.
---
Snow, Fire, Sword by Sophie Masson
Eos, May, 2006
Hardcover, 368 pages
ISBN: 0060790911
Ages 9-12
Ordering information:
Amazon.com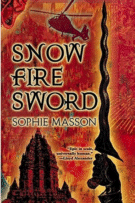 Indonesian mythology comes to life as two teens struggle to stop a dark evil that threatens their beloved island country of Jayanga, where magic and demons exist alongside motorcycles and technology. 16 year-old Adi is the son of a fisherman who is honored to be studying with the country's greatest swordmaker. Dewi is the daughter of a great healer who lives in a quiet village. One day Dewi discovers the survivor of an attack by violent demons who ride on motorcycles. Dewi's father is captured on his way to warn the Sultan of the new threat, leaving Dewi and Adi with the mysterious task of finding Sword, Fire and Snow in order to set things right. On their journey, the two meet up with mysterious spirits, devils and ghosts and receive advice both good and bad. The mythology of Jayanga will -- at first -- be a bit confusing for anyone who hasn't studied Indonesian myths, but it all eventually comes together in this highly creative, rich and original fantasy.
---
Children's Book Reviews
Page One |
Page Two
---
Return to Book Reviews Index
---
More from Writers Write
---