Children's Book Reviews
Page Two of Two
The Fall (The Seventh Tower Book #1) by Garth Nix
Scholastic, June 2000.
Paperback, 190 pages
ISBN: 0439176824.
Ordering information:
Amazon.com.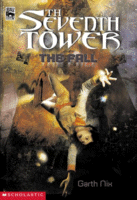 Popular Australian fantasy author Garth Nix (best known for his novels
Sabriel
and
Shade's Children
, both ALA list picks) was hand-picked by Lucasfilm and Scholastic to launch a six-book fantasy series, of which this book is the first. Given just a few "seed ideas," Garth created a fantastical world which has his trademark wit, style and emotional depth. In a world where the sun never shines, 13 year old Tal is a Chosen of the Orange Order, one of the many Orders who live in the Seven Towers. The Day of Ascension is approaching for Tal, when he may enter the spirit world of Aenir and bind himself to a Shadowspirit, a magical guardian sworn to protect its owner. But Tal's father has disappeared with the family's only powerful Sunstone. Without the Sunstone, Tal cannot enter Aenir, and will lose his Chosen status. What's worse, he won't be able to find a cure for his mother's mysterious illness, which he is sure can be cured by means from the spirit world. Tal tries everything to find a new Sunstone: begging, borrowing and even stealing. But during his attempted theft, he is hurled away from the Seven Towers into a mysterious icy land inhabited by fierce people who travel the ice in large ships, hunting terrifying and bizarre creatures. Wanting only to get home to save his mother and his family, Tal sets out on the adventure of a lifetime.
Garth Nix is one of the most talented writers working in the Young Adult fantasy genre today.
The Seventh Tower
is fresh, original and has a compelling hero in Tal. Nix is especially good at plotting and with complex characterizations, none the less so because he is writing for a younger audience than, say,
Shade's Children
. The dialogue is crisp and funny, and the world which never sees daylight except above the mysterious Veil is a fascinating one. From the Sunstones, to the mysterious Shadowspirits to Tal's eccentric Great Uncle Ebbit who helps him at his Achievement of Music competition, the elements of this book are all intriguing. The next book in the six-part series is due out in just a few months, and readers, both children and adults, are sure to be clamoring for the next installment. Highly recommended.
--Claire E. White
---
Salsa Stories by Lulu Delacre
Scholastic, April 2000.
Hardcover, 105 pages
ISBN: 006028000X.
Ordering information:
Amazon.com.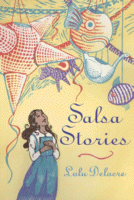 Salsa Stories
by Lulu Delacre is an outstanding book that explains Hispanic culture through stories, and then adds to our experience by including recipes for dishes that are mentioned in the stories. Many young people think of Hispanic culture as coming from a single country. Texas youngsters may feel that most people who speak Spanish are from Mexico, while New York young people may think most Spanish speaking people come from Puerto Rico.
Salsa Stories
shows the panorama of this culture from many different countries, each country with different customs, climates, and cuisines.
On New Year's Day, Carmen Teresa is working in the family kitchen helping to prepare the ingredients for her mother's famous
arroz con pollo
. Family members and guests are arriving, there is salsa music playing, the men are playing dominoes and children are running around noisily. Dona Josefa, a doctor from the free clinic, arrives and gives Carmen Teresa a gift. The gift is a red book filled with blank pages, and there is an inscription inside. The inscription from Dona Josefa suggests that Carmen Teresa use the book as a diary. Carmen Teresa decides to put family stories in the book, and each person at the party tells a story from childhood. At the end of the book are the recipes mentioned in the stories.
The most consistent themes through all of the stories in
Salsa Stories
are community, family, and a truly touching respect and affection for the elderly. Each story teaches a lesson through action without being overly didactic. Flor's story tells about a young girl who admires her grandfather who loses all his belongings in a fire, yet goes on with his life in a cheerful manner. Abuelito's (little grandfather) story called "At the Beach" tells of life in Cuba, and how a young boy learns that telling a lie is a bad thing to do. Fernando tells a lie to his mother because he took a chance and went out on a dangerous reef with his cousins. He becomes so miserable when his mother believes his lie that he has to tell her the truth. All of the stories teach about principles and how doing the right thing can be a very positive, though sometimes difficult, experience.
Salsa Stories
is a really good book for understanding a culture and for getting a young person into the kitchen. It is an excellent choice for a fifth or sixth grade student.
--Sarah Reaves White
---
Star Wars: The Power of Myth
Dorling Kindersley, March 2000.
Trade paperback, 48 pages
ISBN: 0789455919.
Ages 9 - Adult
Ordering information:
Amazon.com.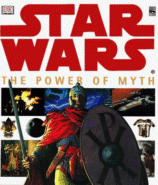 All cultures have myths, and the myth of the hero's quest is found in all major cultures. Dorling Kindersley has produced a fascinating book which takes the
Stars Wars
mythology of American pop culture and contrasts and compares it to other famous myths. The book takes the reader through the multiple mythic elements: the Hero, the Call to Adventure, the Wise Guide, the Magic Talisman, the Hero Partners, Rescuing the Princess, the Escape, Reconciliation with the Father and many others. The comparisons are quite enlightening. Children will be fascinated to learn how much Luke Skywalker has in common with other mythic heroes, such as Aeneas, Siegfried, King Arthur and Thor, and how Obi-Wan Kenobi fulfills the Wise Guide role that Merlin did for King Arthur. With colorful stills from Star Wars, beautifully illustrated pictures of historical heroes, and fascinating textual descriptions,
Star Wars: The Power of Myth
is a wonderful and unique book which
Star Wars
fans of all ages will enjoy, and which will also serve as a useful tool for encouraging your child to learn more about classical literature.
---
Children's Book Reviews
Page One | Page Two

Return to Book Reviews Index




---
More from Writers Write
---