Children's Book Reviews
Page One of Two
From Head to Toe by Eric Carle
HarperFestival, 1999.
Board Book, 32 pages
ISBN 0694013013.
Ordering information:
Amazon.com.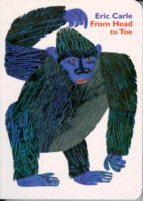 Worried that your children will become part of our nation's statistics that show most children are couch or mouse potatoes and don't get enough exercise? Let them see that movement is fun with Eric Carle's charming board book. Using his trademark colorful collages on a white background, Carle portrays a series of animals performing a movement, then asking the child if he/she can do it. The child responds, "I can do it!" The buffalo says, "I am a buffalo and I move my shoulders. Can you do it? The seal says, "I am a seal and I clap my hands. Can you do it?" and so on with the elephant (who stomps his feet), the camel (who bends his knees) and many others. This is a wonderful tool for showing children basic movements, working on coordination, and having fun at the same time.
---
The Princess Test by Gail Carson Levine
HarperCollins, 1999.
Hardcover, 91 pages
ISBN: 006028062X.
Ordering information:
Amazon.com.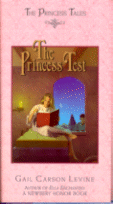 In the village of Snettering-on-Snoakes, in the Kingdom of Biddle, lovely Lorelei is somewhat of a trial to her parents: she is allergic to just about everything and is always either sick or injured from the most minor causes. But her parents love her dearly. After her mother dies, her father the blacksmith hires a servant to look after Lorelei. While hanging up some laundry, Lorelei sheds a tear thinking of her dear mother. Prince Nicholas, riding by, is enchanted with Lorelei and they talk a bit. After some misadventures, Lorelei ends up at the palace smack in the middle of the testing process to find a new bride for Prince Nicholas. At Nicholas' request, Lorelei pretends to be one of the princesses, and submits to the myriad tests to find a suitably picky and sensitive princess. Lorelei spots the errant noodle in her salad, the missing thread in the tapestry and the disparity in colors of the gown she is given. But will she pass the ultimate test --- feeling a pea under twenty mattresses while she sleeps? And what about the crocodile princess, who keeps staring at Nicholas like he's a piece of prime rib for dinner?
Gail Carson Levine, who won a Newberry Award for her retelling of the Cinderella story in
Ella Enchanted
, has a new series entitled The Princess Tales.
The Princess Test
is an updated version of
The Princess and the Pea
, told with Levine's style of wit and humor. Lorelei, who is a bit of a pill, is nevertheless quite likeable as the fussy child who finds a use for her pickiness. Lorelei's servant, Trudy, is hilarious as she schemes to get rid of the somewhat clueless Lorelei, and the Prince's parents elevate pickiness to an art form. The writing is funny and brisk, the pace never lags, and the author makes her point that no test can truly tell a person's worth, and that true love is more important than pedigree. The publisher did an excellent job with the style of the book, as well. The unusual size, lovely illustrations and elegant typeface add to the story immensely. Highly Recommended.
---
Return to Book Reviews Index
---
More from Writers Write