Children's Book Reviews
Page One of Two
Desser the Best Ever Cat by Maggie Smith
Knopf, April 2001.
Picture Book, 40 pages
Ages 4 - 8
ISBN: 0375810560.
Ordering information:
Amazon.com.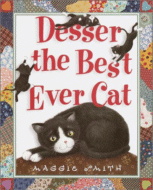 Desser, The Best Ever Cat
, both written and illustrated by Maggie Smith will touch the heart of every person who has ever loved, and lost, a unique animal. Somehow of all the animals one has known, there is always one that leaves a feeling that one has had the privilege of a very special relationship with another species.
The story of Desser is told through the memory of a young woman who remembers a special cat that was already a member of the family when she was born. She narrates all the special things that Desser did through his point of view, and all cat owners will recognize his behavior. Each page has endearing illustrations of a black and white cat and a little girl growing up together. But like any pet, Desser begins to grow old and finally he becomes very sick. The little girl's distress is dealt with tenderly, but honestly. The illustrations show the cat's decline in a loving and straightforward way. The beloved animal dies one night, and the grieving little family buries him at the foot of his favorite tree.
The problem of dealing with grief and finding one's way back to a state of happiness is especially difficult for young minds, and this story would be very helpful in helping an adult explain death. Yet Ms. Smith handles the story in such a positive way, that this book should find its way to any family's bookshelf. It teaches acceptance of the inevitable in a sympathetic way that is sure to teach a very valuable and important lesson to a young child -- even if the problem of dealing with the death of a loved one is not expected in the near future. As a story that will teach sensitivity as well as reality, this story is an excellent choice.
--Sarah Reaves White
---
Drawing (Sesame Street: Elmo's World) edited by Apple J. Jordan
Random House, January 2001.
Board Book, 12 pages
Ages Baby- Preschool
ISBN: 0375811842.
Ordering information:
Amazon.com.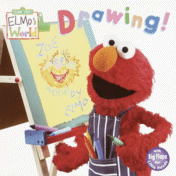 The beloved character of Elmo from Sesame Street stars in this oversized lift the flap board book, which is perfectly sized for little hands that haven't quite mastered the fine art of turning small pages. Elmo teaches the little ones about the joy of drawing in this colorful book. "When it's too rainy to go out to play, Elmo can draw a pretty day." The book shows Elmo drawing a sunny day, new faces, and even a rocket ship. And at the end of the book Elmo says, " Even babies can draw. Show Elmo how you draw, Baby." The last page is a blank space where your baby can draw his own childhood masterpiece. The Elmo's World series of books, like Sesame Street itself, is a great tool for teaching babies basic skills, such as drawing. The large-size flaps are an especially nice touch, and the brightly colored pictures juxtaposed with the photos of Elmo make this a keeper for your little Rembrandt in training.
---
Children's Book Reviews
Page One |
Page Two
Return to Book Reviews Index
---
More from Writers Write
---